By Leona Kesler on Sep 20, 2017 with Comments 0
---
Are you looking for a great dish to serve to family and friends at the next gathering? Polish sausage is an easy entrée to make that I sure to be a crowd favorite. This recipe is a fusion of flavors. It blends sweet and savory and is definitely a great way to bring some old charm back into modern kitchens. This is a culinary classic and this is how you can make polish sausage. Read on for more details.
Note: Prior to Beginning: When purchasing smoked sausage or the fresh version, the meat is commonly available uncut. You can buy at whatever length you need. The sausage is available by itself or with a sweet herb called Marjoram. Some people like the Marjoram. For this recipe we will use the plain.
Items You Will Need:
Whole Garlic Cloves (2 or 3)
Sausage (smoked or fresh) 3 or 4 lbs.
Orange Juice (1 cup)
Honey (1/2 cup)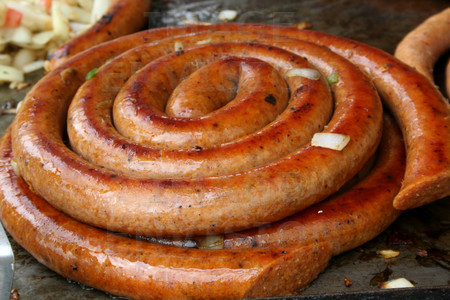 Garlic Cloves ( 2 or 3)
Medium Pot
Kitchen Utensils
Slicing Board
Tongs
Step 1
Fill the medium pot with cold water. Place the sausage in the water. Make sure the sausage is completely covered. Peel the garlic cloves and drop them into the pot as well.
Step 2
Turn the stovetop to high heat. Put a lid on the medium pot and let the sausage cook. It should boil for approximately 20 minutes. Remove the sausage from the heat when cooked. Turn the stovetop off.
Step 3
Use the tongs to handle the hot contents of the pot. Remove the sausage and put them on a slicing board. NOTE: Do not discard the water.
Step 4
Cut the sausage into 2 inch links using a sharpened kitchen knife. Cut slits into the sausage at a 45 degree angle. This helps to enhance the flavor during the cooking processs.
Step 5
Preheat the oven to about 325 F. Put the links into a baking dish in a single layer. The sausages should not be stacked on top of each other.
Step 6
Move the water from the pot into the baking dish with the sausages. Add more water to half way cover the sausages. This is approximately ½ an inch.
Step 7
Combine the ½ cup of honey and orange juice (one cup) in a mixing bowl. Put this over top the sausages in the baking pan.
Step 8
Cover the pan with foil. Bake the sweet and savory sausages in the over at 325 degree. Turn the polish sausages over after a half an hour. Cook on both sides for a combined cooking time of 1 hour. Serve while hot. Enjoy.
Filed Under: Food & Cooking
About the Author: Leona Kesler is a head-chef at a very popular food restaurant in New York. Also she is a blogger who shares her experiences, tips, and other informative details about food and cooking. Her recipes are featured on many magazines.
Comments (0)