By Leona Kesler on Feb 26, 2018 with Comments 0
---
Our eating habits change according to our lifestyles and even weather. Well, for the busiest households and when the colder months set in, nothing soothes the body like a nice warm bowl of oatmeal. Oatmeal is extremely easy to make and the flavors can be changed to fit the tastes of every person in your family. Even the most picky eater can have their own personal flavor of oatmeal. Here is how you can make the perfect bowl of oatmeal. This recipe calls for cinnamon raisin flavored oatmeal. It serves four people. Read on for more instructions.
Items You Will Need:
Spoons
Brown Sugar ( ¼ cup)
Cinnamon ( ½ teaspoon)
Water or Milk (3 cups)
Nuts (1/4 cup)
Raw Oats (1 ½ cup)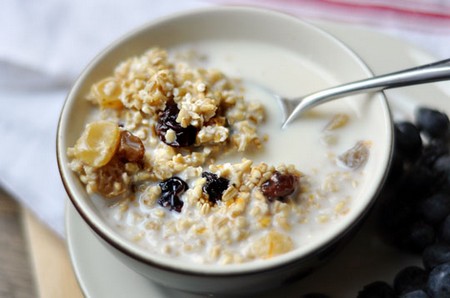 Bowls for Mixing
Pot
Bowls
Raisins (1 cup)
Salt ( ¼ teaspoon)
Groceries
Nutmeg ( ¼ teaspoon)
Step 1
Mix the raw oats with the sugar, cinnamon, salt, sugar and nutmeg in a bowl. Add the raisins (or the other dried fruit that you chose). You may even add nuts here. Put the mix to the side.
Step 2
Put some water in a pot. Let the water come to a boil over medium heat. Slowly add the raw oat mix to the boiling water. Stir non stop when doing this. Take care that the oatmeal doesn't form lumps.
Step 3
Allow this mix to cook for about a minute. Stir during this time.
Step 4
Cover the pot and take it off the stovetop. Allow the oatmeal to stand alone for about 3 minutes.  This will change the consistency of the oatmeal. Check to make sure the flavors are right. Add more seasoning as you see fit.
Step 5
Serve the fruity oatmeal while it is how. Serving suggestions also include milk. You can serve it plain the way it is.
Suggestions:
You can plan to make the oat combination the night before or ahead of time. You can make it in bulk and store it in the pantry. The container should be covered tightly and store at room temperature. You can multiply the batch by 1,2,3 or 4 to ensure there is enough available to have laterThe cooking process is the same for plain oatmeal.
For a more flavorful oatmeal use milk and not water. You can also use half milk and half water. You don't want the milk to curdle and it's very easy to burn. So use medium heat when boiling milk.
To get creamier results in texture, drop the raw oats in cold milk or water then place it over the heat to boil.
Other things like dates and apples work well in oatmeal.
Filed Under: Food & Cooking
About the Author: Leona Kesler is a head-chef at a very popular food restaurant in New York. Also she is a blogger who shares her experiences, tips, and other informative details about food and cooking. Her recipes are featured on many magazines.
Comments (0)