By Leona Kesler on Nov 04, 2010 with Comments 0
---
If you want to explore more of your culinary skills and want to impress your guests, then why not serve them with lobster tails? They will totally be amaze on how delicious and perfect the dish is especially when you add a bit of garnishing for an awesome presentation.
If you do not have any idea on how to cook lobster tails, worry no more. It only takes a couple of minutes to do so and a little bit culinary technique to make the lobster tails very delicious.
INSTRUCTIONS
Preparation
First, defrost the lobster tails. This will take about 8-10 hours inside the fridge.
When the lobster tails are already thawed, cut the shell straight.
Get the lobster meat out from the shell and put it inside a bowl. Let it sit for an hour or so in order to reach in room temperature.
When the lobster tails are at room temperature, you can choose one out of the 3 cooking techniques.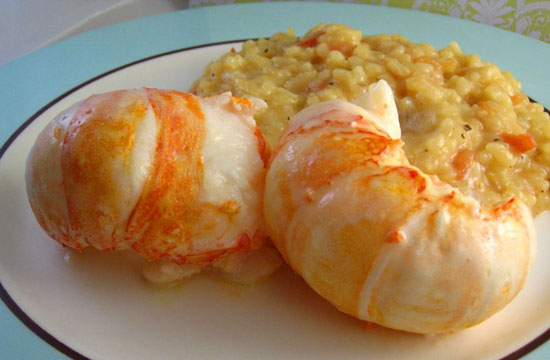 BOILING
What You'll Need
Instructions
Prepare a pot of water and place it on top of the stove.
Wait till for couple of minutes to make the water boil.
When the water is boiling add the uncooked tails. Cooking time is 1 minute per an ounce of lobster tail.
BAKING
What You'll Need
lobster tails
butter or margarine
oven
Instructions
Brush the lobster tails with either butter or margarine.
Place the lobster tails on top of a baking dish.
Set the oven for a temperature of 400 degrees.
Place the baking dish with the lobster tails on it inside the oven and wait for 10 minutes for it to cook.
GRILLING
What You'll Need
lobster tails
butter or margarine
grill
Instructions
Baste the lobster tails with butter or margarine.
Set the grill into medium heat.
Put the lobster tails on the rack and cook the tails for approximately 20 minutes. Flip it once when you reach halfway of the cooking time.
To ensure that the lobster tails are already cooked, check if the meat looks transparent. When they do, remove the lobster tails away from the heat. You do not want to overcook the tails. If they overcook, the tails will taste and feel like a rubber.
Filed Under: Food & Cooking
About the Author: Leona Kesler is a head-chef at a very popular food restaurant in New York. Also she is a blogger who shares her experiences, tips, and other informative details about food and cooking. Her recipes are featured on many magazines.
Comments (0)