By Leona Kesler on Apr 10, 2018 with Comments 0
---
Lentils are one of those culinary delights that are great to eat no matter the time of year. Lentils can be served for lunch or dinner. They are a good food to promote healthy eating and lifestyle. They are not expensive and they store very easily. You can buy them from local grocery store and have them delivered at your doorstep through grocery delivery services. Here is how you can cook lentil soup.
Items You Will:
Lentils (1 cup or 2 cups)
Onion (1 large)
Black Pepper
Salt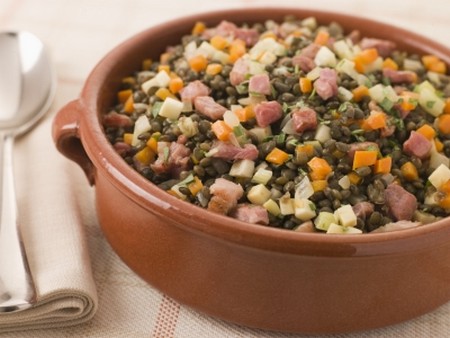 Various Spices
Cutting Board
Sharp Knife
Step 1
Place your lentils in a large bowl and rinse them under cold water. Take extra care to remove any debris, shards, stick, stones or anything that you may find that is not edible. Wash the lentils thoroughly. Now, transfer the lentils from the bowl to a the large pot. The pot should be able 3 times the amount of the lentils in height. Lentils expand during the cooking process and you will need room for that. You will also need room to accommodate the rest of the ingredients you will need to add to flavor the lentils. No pot would qualify as too big in this case.
Step 2
After the lentils have been washed and prepared, you can begin to cook them. When determining how much water should go into making the lentils, ask yourself how thick or thin you want to results to be. As a general rule of thumb, it is safe to use 2 cups of water for every 1 cup of lentils. Once you have added water to the pot, put in the lentils over medium heat. Allow them to come to a boil.
Chop the large onion on a chopping board with a sharpened kitchen knife. Make the onions small and tolerable. Some people did not like to bite into big chunks of onions. Season the boiling lentils with salt to taste. Start will a small amount of salt and gradually add more if you need to.
Step 3
Delicious Indian Lentils:
You can bring the flavors of India into your kitchen. You'll need the best mixer grinder for indian cooking to make this. Use Sambar, Red Chilli, Curry and turmeric to flavor your lentils. This spicy version is great. Click here for more delicious Indian food!
Lentil and Vegetable Comforting Soup:
If you are a vegetarian, you'll also love lentil soup which are very good for you. Read on Dreena Burton to find out more vegan soups and stews. This dish is the best on a cold day. Add spinach, cumin, potato and tomato to the lentils for a treat.
Lentil Pasta Sauce:
This is the best idea for vegetarians. You can even make it Italian inspired by adding garlic, basil, oregano and more to the mix. This is an exceptional method to substitute the meat in any dish. Serve while hot. Enjoy.
Filed Under: Food & Cooking
About the Author: Leona Kesler is a head-chef at a very popular food restaurant in New York. Also she is a blogger who shares her experiences, tips, and other informative details about food and cooking. Her recipes are featured on many magazines.
Comments (0)