By Leona Kesler on Mar 15, 2018 with Comments 0
---
Friday was the day reserved for our traditional dish – Boston clam chowder. It was purely a homemade recipe as we had decided that we shall never serve processed or ready-made clam chowder. I used to refer to this dish by the name of Merle's Clam Chowder. This was due to the fact that Merle, our cook had prepared this recipe. It was a rich dish and not for light eaters, since it did not consider the calories going into it. However, it's delicious and lingering taste made it one of the most appetizing dish, to be had at the right time and place.
WHAT YOU'LL NEED
diced bacon (3 strips)
diced 1/2 white onion (large)
can of no 5 clams (ocean clams)
no 5 clam juice (one can)
diced celery (1/2 stalk)
pealed and diced white potatoes (3 numbers)
black pepper-course (1 oz.)
seasoning salt (1 oz.)
garlic granulated (1 oz.)
chicken base (1 tablespoon)
Worcestershire sauce (1/2 oz.)
whipping cream heavy (1 quart)
grated Parmesan cheese (1 1/2 oz.)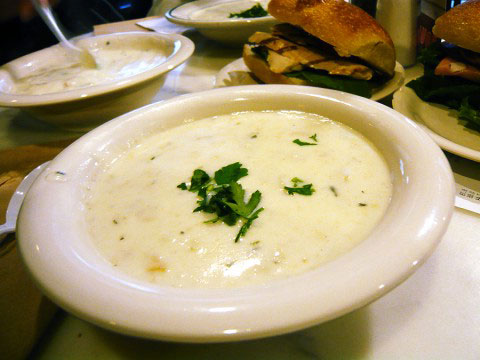 INSTRUCTIONS
Using a kitchen scale, keep aside all the ingredients as per the required quantity. These should be exactly as per the the given recipe of Boston clam chowder.
Take some oil in a skillet and fry the diced bacon pieces. This is the basic step for preparing Boston clam chowder and thus, it needs to be done correctly.
Now take all the other ingredients mentioned in the Boston clam chowder recipe, less the cheese and cream and mix them together in a suitable pot.
Stirring regularly, allow the ingredients placed in the pot to cook on a low flame for boiling. Wait for the potatoes to get tender.
Once the potatoes are done,add the Parmesan cheese and cream This will complete the recipe for the Boston clam chowder.
The soup has to be continuously stirred and heated.
In case the soup appears to be very thick, some water may be added. in case of it being too thin, add a little corn to thicken it up.
To further improve the taste of Boston clam chowder soup, it can be spiced up by Cajun seasoning. This shall give a very distinct and appetizing flavor.
You may add garnishing if you so desire to make it a full enjoyable meal in one.
TIPS AND WARNINGS
New England has the RED clam chowder viz-a-viz the Boston clam chowder, which is white.
Filed Under: Food & Cooking
About the Author: Leona Kesler is a head-chef at a very popular food restaurant in New York. Also she is a blogger who shares her experiences, tips, and other informative details about food and cooking. Her recipes are featured on many magazines.
Comments (0)