By Leona Kesler on Apr 14, 2018 with Comments 0
---
Cauliflower looks like a white version of version. That is due to the fact that it is in the same family as broccoli. Brussels Sprouts and Cabbage also belong to this family. Cauliflower enhances your healthy diet choices by adding vitamins K and C. It's also a great source of Fiber and Folate. Disease fighting elements called phytochemicals help boost the immune system and keep your body running well. Cauliflower can be prepared a number of ways. You can even eat it raw. Here is how you can cook cauliflower. Read on for more information.
Ingredients:
Cauliflower (Fresh or Frozen)
Creativity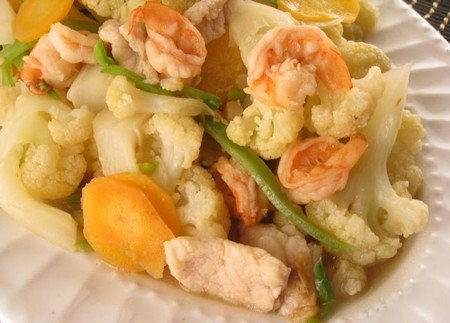 Step 1
Buy a double steamer. This has two cooking containers stacked vertically on one another. As an alternative, you can purchase a small steamer that fits in to the pots you own. Steaming cauliflower is a popular method of preparation. This cooking method allows the vegetable to retain the nutritional value as opposed to them being cooked out in the boiling process.
Step 2
Slice off a piece of
cauliflower and wash it under cold water. Put some water into the steamer along with the cauliflower. Add enough water but do not cover the cauliflower with water. Put a lid on the pot and set the stove to a medium heat. Check back to ensure that all the water has not cooked out of the pot. Use a fork to test for tenderness. Cook to the desired level of softness.
Step 3
Prepare a wok. Oil the wok using cooking oil or cooking spray. Turn the heat on medium. Slice up cauliflower. Places the dices sections into a hot wok. Cover the wok with a lid. Continue to stir the vegetable around in the hot wok to prevent it from sticking and scorching. The stir fry method of cooking also helps the veggies keep their nutrients and vitamins locked in. The time it takes to cook a vegetable with this method is not long at all. You can add many different things to compliment your cauliflower stir fry. You can even make the stir fry a tad better with a sauce and some special seasonings. Garlic, onions, broccoli and green peppers all compliment cauliflower well. Serve your stir fry over rice for an authentic Asian touch.
Step 4
Slice cauliflower into pieces. You can grate the cauliflower if you want to use a smaller size than you can cut. You can add this to your salads for a boost in vitamins or you can even have it raw. Serve these raw florets to children with a melted cheese dip or ranch dressing and watch them devour their veggies.
Enjoy your cauliflower no matter what way it is prepared!
Filed Under: Food & Cooking
About the Author: Leona Kesler is a head-chef at a very popular food restaurant in New York. Also she is a blogger who shares her experiences, tips, and other informative details about food and cooking. Her recipes are featured on many magazines.
Comments (0)