By Arthur Kunkle on Jan 13, 2010 with Comments 0
---
Many water features make use of walls. Raised ponds need low walls to support the weight and volume of water, and wall-mounted fountains (like the ubiquitous lion's head) speak for themselves.
Whichever type of wall you need there's no escaping the fact that what goes up, must go down! Good, deep foundations are the key to a robust wall and that means digging a trench at least 60cm (2ft) deep. This will allow for 45cm (18in) of concrete for the main foundation, and a further 1 5cm (6in) for the first course of bricks to remain below ground level.
Use wooden pegs hammered into the ground and a builder's line – or some string tied to sticks – to mark out the eventual position of the wall and use this as a guide to excavate the foundations. The trench should be roughly twice as wide as the width of the wall it will support.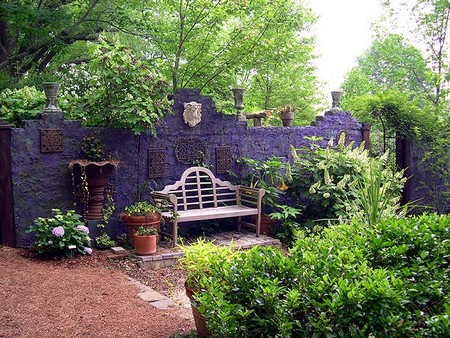 The foundation material is basically a concrete mix, poured in to the trench you have just dug. For small walls you can now get a ready-to-use powder that is poured dry into the trench and then packed down, smoothed off and watered. It will set rock hard within half an hour or so. It is probably not as strong as concrete, but significantly easier for smaller jobs.
For larger walls, the foundation mix should be concrete. Work an amount sufficient to fill a single wheelbarrow at a time, otherwise it may harden before you gel around to using it all. Mix one part cement to six parts aggregate, ballast or sharp sand. Add little amounts of water gradually, until you reach a consistency similar to that of gloss paint – too much water will require you to add more cement/ballast and this can be wasteful.
Start pouring the mix in to the trench. If your new wall will adjoin an existing one, start from that end.
Use a spirit level and a bit of old wood with a straight edge to tamp down and flatten the concrete, so that the final level is at just the right height for the first course of bricks or blocks. The foundation mix will harden sufficiently overnight in summer, or over a couple of days in winter.
Filed Under: Uncategorized
About the Author: Greenery always attracts Arthur Kunkle. He has a big garden where he plants many fruits and vegetables. His passion for gardening motivates him to write and share different tips on gardening.
Comments (0)