By Jason Prickett on Mar 08, 2010 with Comments 0
---
If you keep bulbs and shades clean you will have a lighter home for less money. Shades need to be dusted regularly and cleaned according to their surface. Keep a large supply of all the bulbs you need and a list of what they all are for when you need to replace them.
Once a month, unplug the lamp, re­move the bulb and take off the shade. Wipe the bulb and dry it thoroughly before replacing. Clean the base of the lamp: porcelain, china and glass bases can be cleaned with a damp cloth dipped in a mild dishwashing liquid solution and carefully rinsed and dried well afterwards. Marble and alabaster bases just need wiping with a damp cloth. Lacquered metal bases just need dusting; otherwise clean with the ap­propriate metal polish.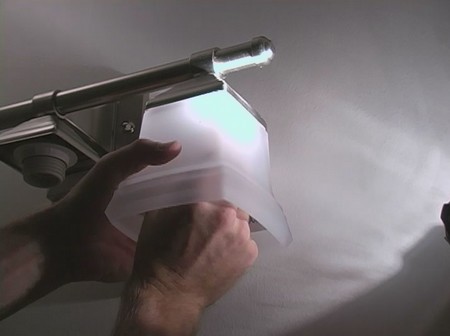 Lampshades
Fabric (nylon, rayon, cotton, etc) shades can be dipped repeatedly in warm soapy water, rinsed in clear warm water and left to dry naturally in a hot place. This should only be attempted if the frame of the lampshade is plastic rather than metal, as metal can rust, and only if the fabrics are sewn rather than stuck tog­ether, as water can soften the glue and cause the lampshade to become un­stuck. Before you start dipping, you must also be sure that your washable fabric shade has a washable lining. If you are unsure or your shade is valu­able, have it professionally dry-cleaned.
Plastic shades can be dipped in warm, soapy water as well. Do not rinse them, but leave a little of the soap on the shade to make it dirt-resistant. Glass shades should be treated with care. Always put a plastic bowl in the sink first, in case the shade slips out of your hands when wet.
Some shades are very fragile and must be treated with care. Paper shades should just be brushed often with a duster – buy another shade when the first becomes worn and dirty. Silk shades should be professionally cleaned before they begin to look dirty as should any fabric shades that are hand-painted.
Metal shades need only be regularly dusted and fibreglass shades should just be carefully wiped with a damp cloth. Rub buckram shades with turpentine and clean metallic paper shades by rub­bing with a mixture of 1 tablespoon (15 ml) of turpentine and 1/4 pint (150 ml) of paraffin, and then wiping it off.
Filed Under: Home & Maintenance
About the Author: Jason Prickett loves to write about home maintenance and stuff you can do yourself instead of hiring any professional. His step by step guides will assist you in completing your home maintenance tasks.
Comments (0)