By Jason Prickett on Sep 15, 2010 with Comments 0
---
Everyone loves the look and feel of leather. Leather is a classic favorite and fashion staple to many people. Leather is a popular material for all kinds of products. Its popularity is due to the durable quality of leather. It's nice to look at, it's supple and it's long lasting.  They make leather products like sporting goods, clothing, travel accessories and more. Leather products last the test of time so eventually you may get a stain on it. Professional stain removal on leather can be quite expensive. However, in most cases a stain can be removed at home. Attempt to remove the stain for your leather products yourself before spending more money to achieve the same end. Before you start to clean any stain from you leather products, ascertain whether you leather is a finished leather or unfinished leather. The best way of deciding how to go about cleaning leather is to determine what kind of stain needs to be removed and the kind of leather you'll be working on. Things like luggage, clothing and furniture are all finished leather goods. Other things like saddles, baseball gloves and work boots are all unfinished leather goods. Here is how you can remove stains to clean your leather goods to keep them always looking their absolute best. Continue reading to find out more.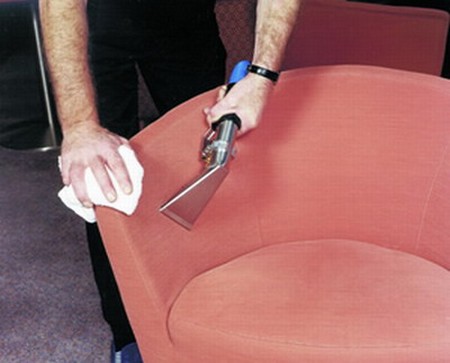 Instructions
Things You'll Need:
Dry Towels
Leather Conditioners
Saddle Soaps
Sponges
Leather Fabric Protection Spray
Damp cloths
Leather Cleaning Kits
Dry Towels
Finished Leather
Step 1
Place a small dollop of a non abrasive, moisturizing soap like Dove on a damp cloth. Rub the cloth to form a lather. Rub gently and don't let the lather grow more than it needs to be.
Step 2
Rub the soapy damp cloth on the stain into leather. Do not over saturate the leather with an excessive amount of water. Keep it as dry as possible. Water will leave damaging marks on the leather if over done.
Step 3
Wipe the soap lather off the leather with a clean damp cloth. Do NOT rinse the leather with water. The water will stain the leather.
Step 4
Polish the leather with a clean dry towel. Allow the leather to dry completely.
Step 5
After the leather is dry completely, apply some leather conditioner to the product.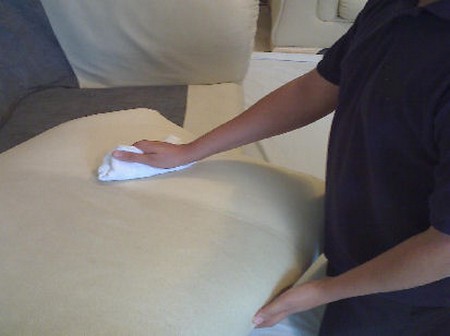 Unfinished Leather
Step 1
Apply the saddle soap to the leather. Use a sponge or damp cloth. Rub the soap until it lathers. Work lightly and gently to life the stain.
Step 2
Wipe the soap off the leather with a clean cloth. Allow the leather to dry completely.
Step 3
Use mink oil to moisturize the leather.
Filed Under: Home & Maintenance
About the Author: Jason Prickett loves to write about home maintenance and stuff you can do yourself instead of hiring any professional. His step by step guides will assist you in completing your home maintenance tasks.
Comments (0)