By Jason Prickett on Mar 08, 2010 with Comments 0
---
We spend one-third of our lives in our bedroom, even though most of that time we are asleep. A calm, tidy bedroom is conducive to a good night's sleep, so keep it simple and uncluttered.
Find some attractive bowls to put your jewellery in when you remove it at night or it can get left on the top of dressing tables or chests of drawers and look untidy. Hang up your clothes as soon as you remove them, or drop them straight in the laundry basket.
It is important that the bed is com­fortable and clean. A great deal of dust can be avoided by using a bedspread. Pillows can be covered with two pillow­cases, the top one opening on the other side from the bottom one. Washing bedding regularly and airing your bed every morning will keep it feeling fresh. Bed-making is easier if your bed is on castors. Fitted sheets and duvets also make bed-making quicker.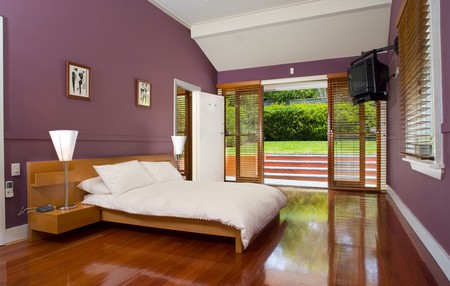 Sheets are made in many different fibres. Nylon and Terylene are cheaper and easy to wash and dry, but need to be washed frequently. A cotton polyester mix feels almost like cotton but needs no ironing. Cotton and linen feel crisp and cold to the touch, and are softer when ironed. Linen is quite heavy when wet. Flannelette is soft and warm, but needs to be washed frequently.
Cleaning bed linen
This can begin once winter is over. Untreated woollen blankets should only be dry-cleaned. Blankets made of syn­thetic fibres can often be put in the washing machine or dry-cleaned.
Down- and feather-filled duvets and pillows should be taken to a specialist cleaner, whereas other natural fibre fil­lings can be dry-cleaned. Duvets and pillows filled with synthetic fibre must be washed or taken to a specialist cleaner; they should never be dry-cleaned. Foam-filled pillows can be washed in warm, soapy water, then rinsed well and dried thoroughly.
Mattress care
Always follow manufacturers' care instructions and never expect miracles: ring marks may remain after cleaning.
When you buy a new mattress, remove the polythene or plastic wrapper and buy a cover of plain or quilted cotton to cover the mattress with. They are easy to wash and will help preserve the mattress. Use a rubber sheet over the mattress if the bed is being slept in by a bed-wetting child or an incontinent adult
Never roll or bend a spring mattress, just turn it over weekly for the first six weeks and then every three months after that. Reverse the mattress from head to foot at the same time
Do not allow children to bounce on the bed and to sit on the edge as little
as possible as you can damage the springs
Clean the mattress monthly with a soft brush; using a vacuum cleaner may pull the mattress cover out of shape
To clean stains from a mattress, tip it on its side. Urine stains should be immediately sponged with cold dishwashing liquid solution and then rinsed with cold water and a little disinfectant. Blood stains should be sponged with cold, salt water, and well rinsed. Try not to overwet the mattress and dry it thoroughly before making the bed again. Use upholstery shampoo on stubborn stains
Filed Under: Home & Maintenance
About the Author: Jason Prickett loves to write about home maintenance and stuff you can do yourself instead of hiring any professional. His step by step guides will assist you in completing your home maintenance tasks.
Comments (0)