By Leona Kesler on Jul 30, 2010 with Comments 0
---
Like a passionate cook, an ardent wine connoisseur indulges their senses. First they look at the color and then they smell the aromas wafting from the glass. They choose the best vessel to enhance the flavours. They breathe in while they take the first sip so that the aroma and flavour combine and enhance each other. They close their eyes and focus on the complex tastes. They can identify, in a sip, a hint of elderflower, freshly mown grass, musky earth or the taste of a peach. They take the time to slowly understand the character and age of what they are drinking. They can feel the acidity or the sweetness on their tongue. They enjoy the complete experience.
Take the time to choose the perfect wines to enhance the flavours of all the dishes on your menu. Sample a variety. Buy a wine book and learn about the different types of grape and their characteristics. Really taste and appreciate. Try to detect the separate flavours in each wine. Savour the moment. Put your feet up. Kick back. Pour yourself a big glass. See. Smell. Taste. Smile.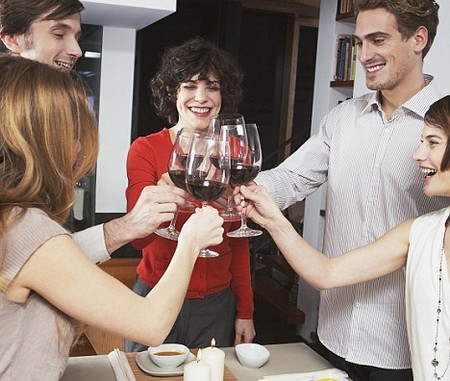 Be informed. Ask for help at your local wine merchant. Tell them what kind of meal you are preparing and ask for their recommendations. Listen to their descriptions of different wines.
With over 10,000 grape varieties and a diverse group of wine-growing countries, there are now more choices available than ever. I've asked wine expert Amanda Skinner, from John Armit Wines in London, to give a description of some of the noble grape varieties and the types of food that each complements.
Sauvignon Blanc
The classic aromas of wines made from Sauvignon Blanc grapes include freshly mown hay, gooseberry, herbs, elderflowers, citrus fruit and peel – all enticing and vibrant noses. The best Sauvignons tend to be fresh and clean on the palate, with relatively high levels of acidity, and intense but not cloying or overpowering flavours. Most are drinkable with or without food.
They are a very good partner for shellfish, fish, spiced dishes -particularly Thai spices – and salads incorporating the 'difficult' ingredients of tomato, peppers and asparagus. The acidity combines with cheeses very successfully, particularly mild creamy cheeses and goat's cheese. Sauvignon is also a good grape variety to serve with plainly cooked chicken and pork.
Chardonnay
While Sauvignon Blanc produces its best wines in cooler climates, Chardonnay is a grape that travels well, and because it flourishes in many different soils and climates, its characteristics are equally varied. Burgundy is undoubtedly the home of the greatest wines made from the Chardonnay grape and the aromas you would expect to associate with these wines include butter, nuts, honey and beeswax.
These are really full-bodied, 'food' wines that perfectly complement many seafood dishes such as lobster, wild salmon, fleshy white fish and scallops, particularly if served with rich sauces. Chardonnays from around the world can be overpoweringly oaky at their worst, but at their best they are elegant and complex. They share many characteristics with Burgundy, but have a slightly more tropical scent.
Pinot Noir
This grape is a bad traveller and is really most successful at home in Burgundy. It is the grape of the great wines of Nuits St Georges, Gevrey Chambertin, Savigny les Beaune, Volnay and many more.
It prefers a cool climate and is difficult to grow as the vine is vulnerable to rot and disease. In too warm an environment, Pinot Noir wines develop jammy and 'cooked' flavours that mask their elegance, complexity and silky qualities. The aromas vary from freshly crushed red fruit (particularly raspberries and strawberries), roses and spices (particularly sweet spices), to liquorice, well-hung game and farmyards, particularly as the wine ages.
The Pinot Noir wines are versatile with food. Their acidity makes them ideal with a wide range of fish, most meat (particularly game), pasta dishes and soft cheese that is not too pungent.
Cabernet Sauvignon
Cabernet Sauvignon seems to adapt itself to being successfully grown in most parts of the world. The associated aromas of wines which are predominantly Cabernet Sauvignon include blackcurrants, blackcurrant leaves, pencils, chocolate, cedar and cigar boxes. In the New World, the scents of eucalyptus, spices, herbs and green peppers can also be detected.
Cabernet Sauvignon may dominate in the Medoc in Bordeaux, although it will be blended with Merlot, Cabernet Franc and Petit Verdot. New World wines may use up to 95 per cent Cabernet Sauvignon in their blend and their makers do not have to declare the composition of the other 5 per cent. Generally, they will use a grape that benefits from blending, which produces a more complex and harmonious wine. Australia has produced good blends with the Syrah (Shiraz) grape, but generally Merlot is the favoured partner around the world.
These wines are good with red meat and hearty pasta dishes. Best served at room temperature.
Temperature and storage
Serve your white wines chilled, but not cold, to enable you to fully appreciate their flavours. Light-bodied reds like Beaujolais and dry roses are also very refreshing in the summer when served chilled. Red wines should be served at room temperature and should be opened at least half an hour before they will be drunk so that oxygen has time to penetrate the wine and release a deeper flavour and aroma.
Wine should be stored in a dark room with a consistent temperature of between 10 and 16°C/50 and 60°F and a humidity level of 65-75 per cent. Because bottled wine can absorb the flavours around it, take care to store it in a place free from mould, mildew and household cleaners. Ideally, you should store your wine in a separate location of its own. The bottles should be positioned at an angle to keep the cork sufficiently moist and so prevent corkage problems.
Filed Under: Food & Cooking
About the Author: Leona Kesler is a head-chef at a very popular food restaurant in New York. Also she is a blogger who shares her experiences, tips, and other informative details about food and cooking. Her recipes are featured on many magazines.
Comments (0)