By Alan Kennon on Jun 17, 2010 with Comments 0
---
Fraternities are formations to develop brotherhood between fellows. The ways are given to join this community for new comers to select good one. Ideas are given below to choose your fraternity at best.
Start survey during summer:
All fresher's think that fraternity begins at starting period of the college weeks or school days and they selected at that time only. That is wrong. Really begin at summertime. Start survey during summer.  Be friendly with fellows of a fraternity. More activities organized during this period to join the fresher. You can communicate with members of the fraternity and call for them to know their roles, process, beliefs etc. also you ask them it is an open community or anyone can participate. This time is best to know about fraternity also we can reveal our self. You can mail with friends belongs to various fraternity this also helps to select good one in your academic career. More contacts of various members at different institute will effectively support to selection.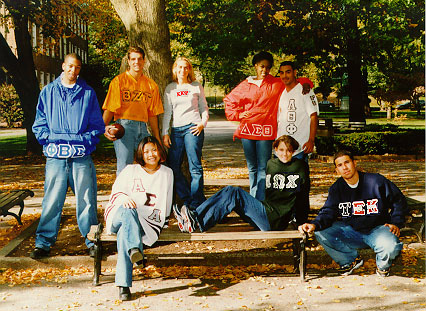 Ask all over and examine responses:
Getting information from one member per organization is not enough.  At least ask two fellows per group to know their responses. This is an ideal thinking. If you ask only one person means he will tell his experience alone, you cannot get a clear judgment. So always ask minimum two persons per institute. Compare that major information's from all members and finally you can get a best organization.
Know the main things when you deciding:
First of all know their process, roles, activities etc. Second one is the academic status level and the coordination from the group members. Next one is the co-curricular activity. Ask if any member is state level champion or government scholar that can ignite your sports or activity. See in what place they got in last 3 years at state level competition. Last one is know the career opportunity if you graduated.
Know the interior kinship of the fellows:
If you are one of the member of fraternity you must find that how they treat the members. Observe their opinion about other organization members. You must be careful don't be a duped one or victim.
Be careful and friendly with other group fellows:
You must think about organization level it helps to your career also. Be aware of friends or classmates. Also think of minorities how they cared over. Be confident not to be dumped by the information you received and they self-pride.
Be aware in choosing which institute to join. And make sure the group belonging you are surely not going to affect and couldn't cause any problems to your career.
Filed Under: Lifestyle & Personality
About the Author: Alan Kennon lives a very happy life with two kids and a lovely wife. He likes to share his life time experiences with others about how they can improve their lifestyle and personality.
Comments (0)