By Jason Prickett on Apr 24, 2010 with Comments 0
---
Many homes are lacking in good storage facilities and correcting this can greatly improve the efficiency of your home. It can also provide attractive display space for treasured items
Shelves
Shelving can be made of any flat material, ranging from glass to hard woods.
Freestanding shelving units
These can go anywhere in a room and are available in designs and styles to suit every purpose and interior. Units with adjustable shelves are the most practical.
Flexible shelving
Wall mounted shelving systems are usually modular systems that you can add to as your needs grow. Some designs will take heavy weight items.
Individual shelf
Inexpensive and simple to fix. This is useful for awkward areas or for space over radiators or doors.
Cupboards and closets
Essentially these are shelves behind doors.
Freestanding shelves
Useful for storing items out of view and protecting possessions from dust, it does still need to be periodically cleaned, but can be moved around the home to suit other furniture.
Fitted shelves
This mainstay of modern kitchens and bedrooms is an ideal way to make full use of unusual or awkwardly shaped rooms. Clever devices, like turntables allow access to corners and may be made to measure, or come with standard dimensions from a prefabricated kitchen or bedroom retailer.
Try to get the most out of your shelving units. Adjustable shelves can be altered to accommodate larger or smaller items. Take time to store items of the same size together to save room.
To avoid shelving looking densely packed, try breaking up lines of books or files with a single ornament or plant.
Freestanding shelves may have doors that will hide storage, keeping the room looking clutter-free.
Drawers
Drawers can be regarded as storage boxes and serve a dual purpose, as they not only store, but offer a surface for displaying.
Freestanding chest of drawers
This is an ideal way of keeping groups of similar things in one place and small items protected from dust and light.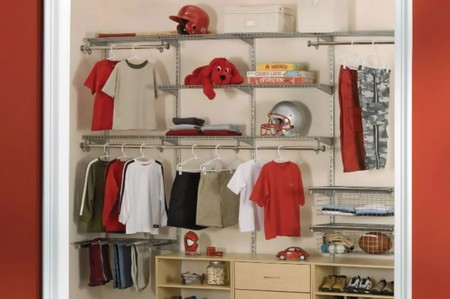 Fitted drawers
Usually built into kitchens and bathrooms they pro­vide pull-out storage for easy access. Deep drawers may be chosen instead of cupboards for larger items.
Freestanding drawer units
Unlike chests of drawers, these are simply a stack of pull-out storage units. They can be made of a variety of materials, shapes, and sizes and sometimes have wheels for greater flexibility. These can be used in just about any part of the house – from bedroom to kitchen to hallway – so long as their size is suitable for your needs.
Smaller storage
There are now many storage extras , for example, drawer dividers that create individual pockets for socks, and baskets that can slide onto shelves in the kitchen or the bedroom to hold smaller items.
Filed Under: Home & Maintenance
About the Author: Jason Prickett loves to write about home maintenance and stuff you can do yourself instead of hiring any professional. His step by step guides will assist you in completing your home maintenance tasks.
Comments (0)