By Ralph Crutcher on Feb 18, 2010 with Comments 0
---
The right footwear is as important as the clubs you use for if you do not have a good grip on the ground, then neither the right playing equipment nor a good swing can help.
The weight distribution and thus the pressure points on feet and shoes vary from player to player, from professional to high handicapper, and from left hander to right hander. And, of course, they change throughout the different phases of the swing.
The weight should be rather evenly distributed between both feet at address, with just a little more weight on the heels. The right hander then shifts the weight to the inner side in front of the right foot during the backswing while some weight remains in front of the left foot. The weight settles on the outer side in the middle of the left foot at impact, and puts some pressure back at the front right foot during the follow-through. For the left hander, the opposite is true.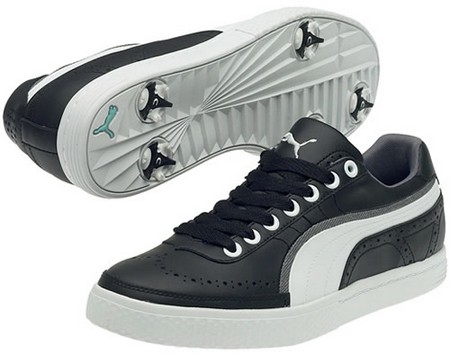 It is on these pressure points that you need the most support from your shoes. As the danger of slipping is greatest when the weight pressure is highest, this is also where the spikes or rubber tips should be located on the soles of your golf shoes.
Your golf shoes should be snug without being too tight, the type that gives you plenty of feel, so that you can feel how your weight is distributed when you take your stance. You certainly don't want a shoe which is even a little bit too big, for while it may be comfortable your feet will move around inside the shoe and this affects your balance throughout your swing.
How do you go about selecting the type of shoe you want? The things you must consider are conditions in which you play golf, the look of the shoe, its life expectancy and your budget. While you may not wish to outlay a large sum, the idea is to get value for money.
There are hundreds of designs now available and generally the quality of golf shoes is very good. Wide research and development and the use of new, lightweight materials have revolutionized golf shoe design with the player reaping the benefits. I will outline the types of shoes available and the suitability of each.
All-Leather Classics
These are the most expensive shoes on the market but they come with the manufacturer's guarantee of great comfort, durability and a better look. Most all-leather shoes are made with the upper stitched to the sole, which is still the most reliable way of making shoes. They are made from the best and softest leathers and have a soft calf-leather lining.
Almost all tournament professionals, and a fair portion of the golfing population, wear this type of shoe because they have the stylish appearance of a good street shoe and are available in a wide range of colours and styles.
The all-leather classic will last for years, if you look after them, and be comfortable throughout. While their price is high, these shoes do offer very good value for money. The all-leather classics may last two or three times as long as the cheaper lines.
Any shoe with a leather upper should feel just a little bit tight when new, so you may need to place bandaids on those parts of your foot which blister when wearing new shoes.
If you want a lightweight shoe, look for something else because the all-leather brands are the heaviest on the market.
Mixed Classics
pfhe leather shoes with synthetic sole and lining are very popular because they have the classic look of the all-leather shoes, while offering several advantages over them. These shoes are cheaper, they are lighter and they do better in bad weather. Although a number of waterproof shoes for women and men brands now actually come with a waterproof guarantee from six months up to two years, obviously this doesn't mean for you to walk through puddles.
The trade-in is durability. These shoes are prone to loose their good looks after a while, because their leather uppers are of a lesser quality. The sole and the upper which are glued together rather than stitched may also separate in the long run.
All-Synthetic Classics
New synthetics make these shoes a better proposition today than they were some years ago. The materials used these days won't make your feet sweat as much as they don't seal off the air. The shoes are now quite comfortable, ultra-light, and very good when the fairways are wet. Waterproof guarantees abound.
The synthetics are also easy to clean, requiring nothing more than a wipe over with a damp cloth when you finish your round. They are cheap as well, but they don't last long. .
Athletic Shoes
These shoes are in effect tennis shoes with spikes. They are usually light and fitted with a lot of padding making them the most comfortable shoes in the market. They have synthetic or rubber soles and either synthetic or leather uppers. Again quite a few models carry a waterproof guarantee.
Although inexpensive, some fashion-conscious golfers feel the athletic shoes suit the golf course as much as sneakers the office.
New Designs
With manufacturers from the leisure-shoe industry entering the golf market, comfort has become the biggest selling point for golf shoes. Nike introduced an athletic model featuring an air-pocket inside the sole, while Reebok offers a classic golf shoe with a bladder built into the sole, which can be inflated according to your needs.
Another innovation is the use of graphite and glass fibre inlays in the soles of a number of branded golf shoes. They are designed to flex during your walk, and to resist twisting during your swing. They are also very light.
Spikes
Golf shoes either sport a rippled sole or they have spikes. Rippled soled shoes lead largely a wall-flower existence, probably because quite a number of exclusive golf clubs ban them from their courses alleging that they damage the greens, by tearing the leaves out of the grass. And although more recently it was claimed that they actually do less damage than the spiked shoes, it is the latter that remain the most popular as golfers appear to have become used to them in the past six decades.
More and more golf shoes are now fitted with ceramic-tipped permanent spikes, just like the Puma Waterproof Golf Shoes, which is designed to last longer. Ceramic-tipped spikes, which really are metal spikes with a ceramic coating, will in all likelihood also join the long list of materials for replaceable spikes soon, but may turn out to be more expensive than any of those.
The other long-lasting spike material is tungsten, which is also not cheap and has the additional disadvantage of being heavier than steel. Metal-tipped plastic spikes also last quite long, while being substantially lighter than any of the above. However, steel and metal alloys are still the norm for spikes on the market today.
Some shoemakers fit sole ripples in between the patches of spikes to increase grip during the swing.
Whatever your choice of replaceable spikes, you must remove and lubricate the threads before you wear the shoes for the first time. Otherwise you may never be able to change them.
Two or Three Pairs?
There are very good reasons for you to own more than one pair of golf shoes.
For many golfers, dressing well on the course is very important, because it boosts their confidence. If you are fashion-conscious, you may want shoes of different colours to match your outfits.
Changing playing conditions may require various types of shoes. You don't want to be wearing your all-leather classics in a downpour. Although the upper may be fairly water-resistant, the soles will soak up the moisture, leading to the eventual deterioration of the stitching, shortening the life of the shoe.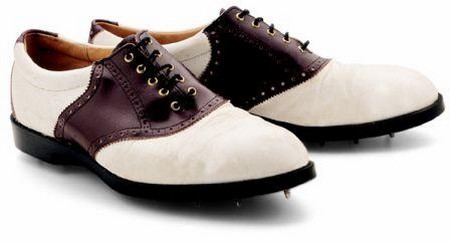 You want to make sure that you wear white shoes in hot climates, which will keep your feet quite a bit cooler than darker colours.
You may want to reserve one good pair for tournaments while wearing cheaper or older shoes to the driving range.
And last but not least, you may want to extend the lifespan of your shoes. If you have just one pair, and play regularly, they will wear out quickly, no matter how good the quality. After wear, a shoe needs one entire day to dry out. If you play golf every day, you have to alternate. You should at least have two pairs of shoes, but I suggest three for the regular player.
Maintenance
Good maintenance of your shoes is very important if you want them to last as long as possible. Different types of shoes require different types of care but all need to be looked after properly.
Filed Under: Sports & Fitness
About the Author: By profession, Ralph Crutcher is a swimmer but enjoys playing football, Golf, and regularly goes to the gym to keep himself fit and healthy. This is one of the reasons; he likes to write about sports and fitness.
Comments (0)