By Alan Kennon on May 15, 2010 with Comments 0
---
A woman's wedding day is one of the most important days of her life. Every bride wants her special day to be perfect. When looking for wedding photographers for your special day, you can't go past Kate from Kate Legters Photography, visit her main site. Women spend their entire lives talking about the day they get married so naturally when the time arrives it's a bigger than life affair. A lot of attention to detail is spent on every aspect of a wedding. Everything from the dress, to the napkins and music has to be perfect. That includes the bridal lingerie. Bridal lingerie comes in all styles patterns and fabrics. Very elegant and beautiful corsets, bustiers, camisoles, night gowns and baby dolls can be easily found and purchased. Here is how to select and purchase bridal lingerie for the wedding day and the honeymoon.
Step 1
Look for the highest quality in lingerie you could afford. Start looking at items made of satin, lace and silk. Designer bridal lingerie is known for its quality tailoring. Make sure you have adequate support to prevent a bad fit. Inspect and verify that the seam on the inside of the garment is properly sewn to ensure you are well supported.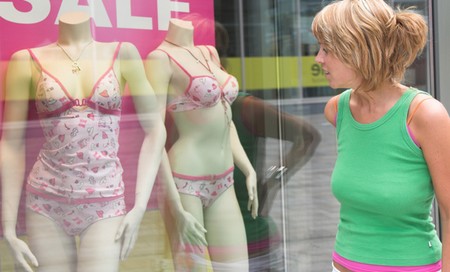 Step 2
Compile a list of the bridal lingerie you need for your special day. You also need to list your bridal lingerie needs for the honeymoon. Be as specific as possible. Note color, sizes and styles. Some sources say a white satin corset or bustier is essential to wear under your wedding dress. If you have some areas that need attention an added girdle may help you with your shaping needs.
Step 3
Search for bridal lingerie at shops that specialize in this type of apparel. Stores now have a variety of catalogs and items available for purchase online. There are also designer specific pieces that are sold at specific venues exclusively. Give yourself some head start time to make preparations for selecting these items. The time should be enough for you to return the item in case of defect or incase of any change you need to make. Shipping time should be assessed and added in so that you have your lingerie in time. If time permits you can also take the opportunity to find some imported pieces.
Step 4
Search your local department stores and lingerie sections in the malls.  Brides overlook the possibility of getting their bridal needs met at the local mall. However, department stores can be very useful when it comes to getting items that are both quality and easy to purchase. Even in the event of an exchange or return local venues are the more convenient choice. The larger department stores tend to carry a better variety of items. These stores have a fashion season that they adhere to. Visit your local stores for more choices.
Filed Under: Lifestyle & Personality
About the Author: Alan Kennon lives a very happy life with two kids and a lovely wife. He likes to share his life time experiences with others about how they can improve their lifestyle and personality.
Comments (0)