By Jason Prickett on Jan 24, 2010 with Comments 0
---
Having a hardwood floor installation has many advantages as a flooring material. It is relatively warm underfoot; it is less noisy than ceramic or quarry tiles (though, of course, not as quiet as a 'soft' flooring); it provides good insulation if there are no gaps; and, above all, it has its own beauty as a natural material. Wood floors can be painted, but the majority are left with a natural finish, sometimes enhanced by a wood stain and usually covered with a protective coat of varnish or floor sealer. There are also available wood look tile that is also a good choice for house flooring.
OPTIONS
There are three ways you can have a new hardwood installation. One is to restore existing floorboards by sanding them down to a new finish; another is to replace existing floorboards with new floorboards or thick woodstrip flooring; the third is to lay a timber floor covering down over the existing floor, whether this is a suspended timber floor or a solid concrete floor.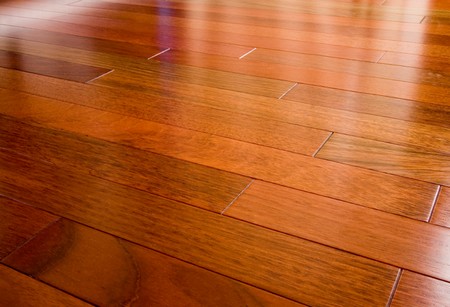 RESTORING EXISTING FLOORBOARDS
If the existing floorboards are not damp, have no signs of rot and are basically in good structural condition, you can simply grind off the surface dirt, grime and irregularities with a floor sander and get back to a reasonably good finish. This can then be stained and varnished after any remaining minor faults have been repaired.
NEW FLOORBOARDS
If an existing suspended timber floor is in a poor state of repair, it may not be possible to restore the existing floor. In this case new floorboards are the only answer if you want to keep the same type of flooring.
Note that floorboards are made from softwood, which marks easily and is pale white in colour, so they may need some kind of wood stain to enhance their looks if you are leaving the floor bare. Note, too, that floorboards may have faults (knots, splits, cracks, warps or bows) when you buy them -and that these faults can also develop over a period of time.
TIMBER FLOOR COVERINGS
There are three main types of timber floor covering available: strip, mosaic and block.
Strip flooring is sold either as individual planks (like floorboards) or in larger sheets with individual strips joined together to look like floorboards. The planks or the sheets are tongued and grooved so can be laid down on the floor with no gaps.
Woodstrip flooring comes in different thicknesses – typically 8 to 9 mm, 12 to 15 mm, 19 mm and 23 to 25 mm. The thinner types are designed to be laid directly on to an existing floor; the thicker types are also suitable for securing to joists in place of floorboards or chipboard (particle board) flooring. Most woodstrip flooring is hardwood (oak, beech, elm, merbau or teak), though softwood (pine) is also available. The thicker woodstrips usually have a thin top layer of hardwood laminated to two sub-layers of softwood. The widths of woodstrip flooring vary from 125 mm (5 in) to 200 mm (8 in) and more; lengths are typically 1.8 m (6 ft) and 2.4 m (8 ft).
The advantages of hardwood strip floorings over softwood floorboards are that they are more durable, more resistant to marking and more colourful – hardwoods generally are much more attractive than softwoods. Because of the way hardwood strip flooring is constructed, there should also be no faults in the material and it should be completely stable, neither warping, bowing nor splitting.
Woodstrip flooring can be secured with nails into the timber floor or joists below or with adhesive or clips to join adjacent strips together to give a 'floating' floor.
Mosaic flooring consists of narrow strips of wood, attached to a hessian (burlap) backing or joined together with wire and glue in squares, so that the strips in one square are at right angles to the strips in the adjoining squares. A 'panel' is usually four squares.
Mosaic panels vary in size from 300 mm (12 in) square to 600 mm (24 in) square with a
thickness of between 7.5 mm (5/i6 in) and 10 mm (% in). The method of construction allows a degree of flexibility so the flooring can cope with slightly uneven surfaces.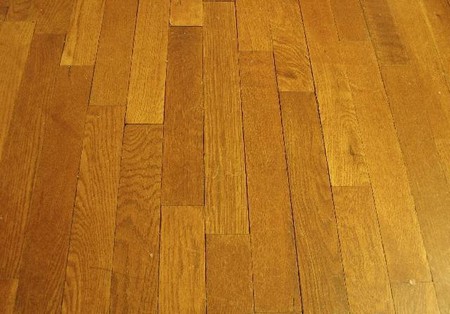 Mosaic flooring comes in a choice of different woods (merbau, oak, iroko and pine, for example) and either has a self-adhesive backing or is laid on a bed of adhesive. Each panel is usually tongued and grooved.
Block flooring consists of small blocks of wood which are laid down individually in a pattern, of which by far the most common is 'herringbone'. This type of flooring is often known as parquet, though 'parquet' is commonly used to describe other types of timber flooring as well.
Parquet flooring blocks can vary in thickness from 6 mm to 50 mm and individual blocks are typically 225 to 300 mm (9 to 12 in) long and 50 to 75 mm (2 to 3 in) wide. The blocks are laid on a bed of mastic or asphalt on the sub-floor (commonly a concrete floor), but laying parquet requires skill and is a job for a professional.
Another type of timber flooring consists of a thin layer of hardwood on a cork base with a protection of vinyl. This not only looks good but is warm. It is laid on adhesive in a similar way to cork floor tiles.
Filed Under: Home & Maintenance
About the Author: Jason Prickett loves to write about home maintenance and stuff you can do yourself instead of hiring any professional. His step by step guides will assist you in completing your home maintenance tasks.
Comments (0)