By Leona Kesler on Apr 12, 2010 with Comments 0
---
From swanky specialist vinotheques through glitzy bars to spit-and-sawdust pubs, you can get wine of some description in all of them, but how to avoid the rubbish?
Three basic rules
Take your cue from your surroundings. If it looks like the sort of place that serves six bottles of wine a year, the stock isn't likely to be either fresh or well kept, so drink something else.
If it's a really good specialist wine bar the staff may have a few good recommendations of their own, so ask them.
Keep your eyes peeled for promotions. Rather than ones that are encouraging you to drink more (a good way of offloading cheap stock), go for promos that cut the price of an expensive wine to an affordable level.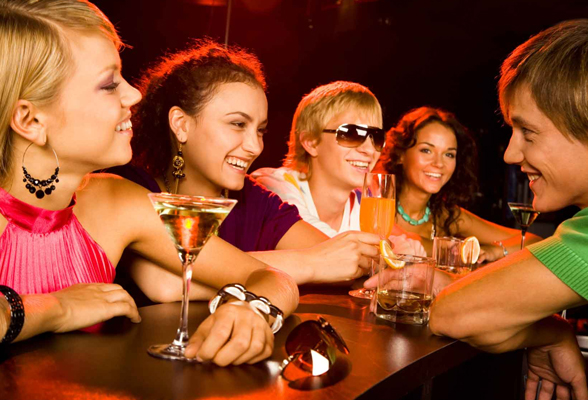 Choosing a wine
Generally you want soft, fruit-forward, easy-to-drink wines rather than 'classical' clarets and Chablis, which have more tannins (red)
or acidity (white).
I usually find white wines easier to drink in bars, provided they're not too warm. New World Chardonnay is a decent white choice, though some cheap examples can be a bit sickly, so avoid the bottom-end stuff. Sauvignon Blanc is a refreshing palate-sharpener on hot days, but is usually too acidic for more than one glass, so be prepared to switch unless you want indigestion. White Bordeaux (a blend of Sauvignon Blanc and Semillon) can be easier on the stomach.
Great by-the-glass whites for me are Riesling, Gewiirztraminer or Tokay Pinot Gris from Alsace, but they aren't always easy to find. Pinot Grigio, the Italian version of Pinot Gris, is more common (and varies from fun and sprightly to thin and nasty, so pick with care).
If you go the red route, New World Cabernets, Merlots and Shirazes are soft and juicy, but also get rather heavy for repeat drinking. Spanish reds (Tempranillo or Monastrell) or lighter Italians (Barbera and Valpolicella) are a good alternative. As, believe it or not, is Beaujolais if it's a decent example.
Filed Under: Food & Cooking
About the Author: Leona Kesler is a head-chef at a very popular food restaurant in New York. Also she is a blogger who shares her experiences, tips, and other informative details about food and cooking. Her recipes are featured on many magazines.
Comments (0)