By Justin Belden on Mar 08, 2010 with Comments 0
---
As your business progresses and expands, you may well consider developing its systems to something more mechanical -take your accountant's advice before you embark on anything definite.
The sort of thing which might be suitable to consider is an accounts package on a personal computer. Systems vary in sophistication. You can get systems in which for your sales, you key in the amount of goods supplied and details about price, settlement terms, VAT rates and so on and the system will do all the calculations for you, print out an Invoice and add the required amount to your VAT Return at the end of the quarter.
For purchases, again you key in the details of the purchase and how payment is to be made; the system will produce a list of cheques to be made out (sometimes the cheques themselves). The amount of VAT you can claim will be automatically added to your VAT Return. The total of your net sales and purchases is then added as the actual figures on your Cash Flow Forecast so that you can see at a glance how well your business is doing.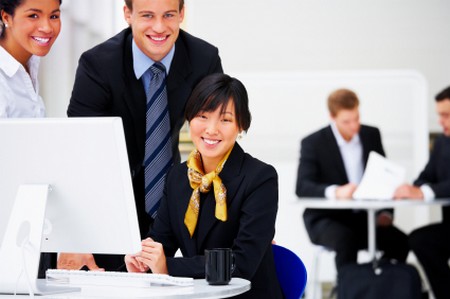 Do not rush into buying computer software for your book­keeping, particularly if you are fairly new to computers. You need to have the best software or data labeling platform that is right for your business. You might decide in the end to computerize only part of it.
There are many different software packages on the market today that deal with basic accounts information and are easy to use. The most common and easily available are Quickbooks and sage business vision. The advantage of using one of these packages is that they have good telephone help lines and most accountants are familiar with them.
Make sure that you keep computerized records carefully. Make back-up disks in case your current disks get corrupted. Your accountant will need your summary printouts (which can usually be generated automatically by the system) for the audit trail. HM Revenue 8c Customs might require these as well.
If you are running a business with many customer accounts requiring lots of Invoices each month, a computerized book­keeping system could save you a lot of time. If you are running say, a consultancy with far fewer invoices and payments, the amount of time saved is minimal.
The other type of package which you might find very useful is a wages package. Once set up, this can, with a minimal amount of keying in, generate pay slips and cheques, so that you know your employees receive all the information and money to which they are entitled.
You might consider employing a professional book-keeper to do your books, make your VAT returns and run your wages system. These professionals often run small businesses themselves, and are usually trained in using the latest computerized package.
Filed Under: Computers & Technology
About the Author: Justin Belden is a freelance web & graphic designer with over 15 years' experience. He is also an Avid member of the Design/Development community and a Serial Blogger who loves to help people by sharing interesting and informative tips and trick related to computer and technology.
Comments (0)