By Jason Prickett on May 15, 2010 with Comments 0
---
Have you been experiencing unexplained bug bites on your body? If you're not sure where the bites are coming from, there is a good chance that you are being bitten while asleep, heat supplied by an electric bed bug heater and fan kills bed bugs and more. Here is an easy way for detecting bed bugs if you think your bed is infested. This home remedy made to trap bed bugs will cost you less than $20 dollars. But if you need experts to help you, the bed bug exterminator nyc can assist you. A bed bug heat treatment is an effective strategy of getting rid of bed bugs.
Things You'll Need:
Pet food bowl
1/2 gallon thermos (camping supplies)
Dry Ice
Fabric
talcum powder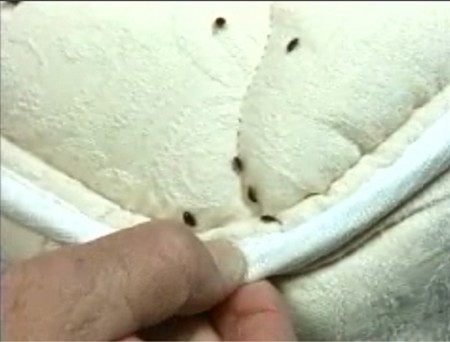 Step 1
Prepare your bowl for this project. Tape your fabric around the perimeter of the bowl. This gives a platform for the bed bugs to crawl into. You need to turn the bowl with the fabric upside down. This creates the ditch that will secure the bed bugs inside of the trap. Sprinkle the ditch created by the bowl with talcum powder. The talcum powder lubricates the surface preventing the bed bugs from escaping the trap.
Step 2
This involves use of dry ice. Take extra precaution when handling dry ice. Always use heavy duty protective clothes and never handle the dry ice with your bare hands.  Protective measures are of the utmost importance. Also, keep in mind that dry ice only lasts 24 hours. Dry ice is very inexpensive. You can purchase it locally at a store like Wal-Mart for about one dollar a pound. You should use and purchase the dry ice within this time frame. Fill your thermos with one pound of dry ice.
Step 3
Place the dry ice and thermos on top of the pet food dish. According to BBESF | Bed Bug Heat and Steam Treatment experts, you should make sure to leave the top of the thermos  cap ajar. This allows the CO2 to emit slowly as the dry ice evaporates. The CO2 is what attracts the bed bugs. Human beings exhale CO2 and this simulates breathing. This will make the bed bugs think there is a warm body and blood nearby. Leave this trap at your bedside  at night. Bed bugs are nocturnal. They will find their way to the pet food bowl due to the CO2 emissions.
Step 4
When the morning comes check your trap. You'll be able to visually verify whether your bed is infested with bed bugs.
Step 5
If your trap indicates that you have an infestation you may want to consider extermination. You may leave the trap another night and see if your problem is solved. If it is not the seek professional help. You can see more at thermalbedbugheat.
Step 6
If you opt for professional bed bugs extermination then see the results. Iowa locals trust A1 Bed Bug Exterminator | Davenport Iowa Location to take care of bed bug infestations.  Make another trap and use the trap a second time to test and see if the bed bug control process was successful.
Filed Under: Home & Maintenance
About the Author: Jason Prickett loves to write about home maintenance and stuff you can do yourself instead of hiring any professional. His step by step guides will assist you in completing your home maintenance tasks.
Comments (0)