By Jason Prickett on Mar 08, 2010 with Comments 0
---
Leather can keep supple and beautiful for years – it can even improve with age, provided it is treated every month or so. Before treating leather you must test it for colour fastness. In an unseen place, wipe the leather gently with a damp, soapy cloth. If no colour is removed, wipe on a mixture of 3 parts to 2 parts castor oil and surgical spirit. Leave for twenty-four hours, then wipe with cas­tor oil. If the leather has become stiff and thick, rub in saddle soap or hide cream with a sponge or soft brush, working the lather in well. Do this every day until the leather becomes supple.
To prevent cracking, rub dark leather on desks once or twice a year with warm castor oil and white leather with white petroleum jelly, applying it with your fingertips and removing it with a soft cloth. Or you can rub it regularly with a mixture of equal measures of vine­gar and methylated spirit mixed with double measures of both linseed oil and turpentine. Shake well before use and apply the mixture sparingly with a soft rag and then polish.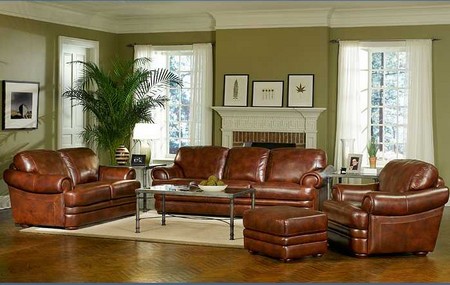 Removing stains
Remove stains from leather carefully with a little white spirit, being sure not to rub too hard or to use too much white spirit. Test it first in case the colour of the leather is removed as well. If large areas of leather need to be brightened, rub with leather polish in a matching colour. If a small area of colour has been rubbed off or scratched, retouch it by stippling leather stain in the correct colour with the tip of a fine watercolour brush. Do not use any colour on the surrounding area; only retouch the worn spot.
Finishing touches
Always finish leather work by polishing with a proprietary wax dressing or cream on a soft cloth. Treat the leather about once a month like this. Dust or vacuum leather upholstery regularly. Never use detergent or dry-cleaning fluid, petrol or ammonia on leather. Never rinse leather after washing with soap. If leather is badly damaged, do not attempt to treat it yourself, but seek professional advice.
Chamois leather upholstery should be washed using warm soapy water and rinsed with warm water to which you have added a dash of olive oil. Leave it to dry naturally.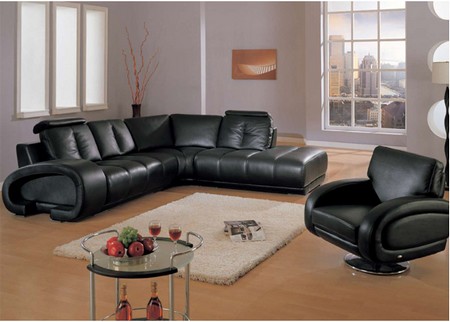 Leather desk tops
Wash with soap suds keeping the leather as dry as possible. If necessary, rub with hide food or leather renovator to keep the leather supple, but be very careful not to touch any surrounding wood or embossed gilding.
Fake leather upholstery
Fake leather should never be cleaned with wax or cream polish as it will not absorb it. Sticky marks can be removed with a mild detergent (not soap) so­lution and polished with a soft cloth.
Filed Under: Home & Maintenance
About the Author: Jason Prickett loves to write about home maintenance and stuff you can do yourself instead of hiring any professional. His step by step guides will assist you in completing your home maintenance tasks.
Comments (0)