By Andrew Reinert on Apr 08, 2010 with Comments 0
---
An increasing number of patients breathe through an artificial opening in the neck called a tracheostomy. You should be aware of the reasons for this if you are to care for the patient adequately.
The operation is carried out when there is an obstruction to breathing like a growth in the voice box (larynx) or, more rarely, because of severe flame or caustic burns. A hole is opened up in the patient's neck and a tube inserted through the hole into the trachea. As a temporary measure, uncon­scious patients being nursed in an intensive care unit or patients with severe respiratory problems may be artificially ventilated through a tracheostomy. In these cases, when the patient is better the tube is removed and the opening heals. In other cases the tube may be permanent.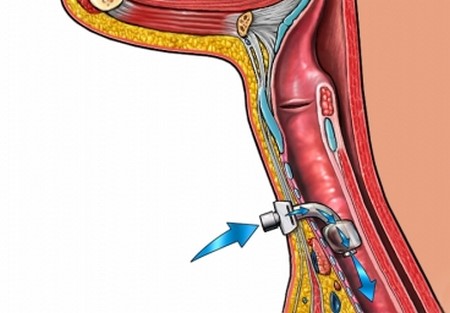 Should you be helping to care for a patient who has had a tracheostomy, as part of your daily care you may be asked to look after his tube. This consists of an outer tube, which you must not remove, and an inner, which can be taken out for cleaning. This is particularly important if he has a chest infection, as mucus can clog up the tube and obstruct his breathing. The com­munity nursing sister will demonstrate the procedure, and in an emergency ask the patient or a relative how the tube is norm­ally cleaned and follow their instructions. In the absence of any instructions, rinse the tube either under running water or in bicarbonate of soda solution (one 5ml spoonful of bicarbonate of soda to 600ml of water). Rinse it well before returning it to the patient for use.
If the patient's voice box (larynx) has been removed he will be unable to talk. Some people are taught by a speech therapist to manipulate air belched from the stomach to produce speech. If the voice box is still there, a little valve in the trache­ostomy inner tube closes when the patient wishes to speak.
Tracheostomy
A tracheostomy is an easy operation, which may be performed under either a general or a local anaesthetic. A tube is inserted to open an air passage between the trachea and the front of the neck when the throat or larynx is blocked or damaged. The tracheostomy may be temporary or permanent.
Filed Under: Health & Personal Care
About the Author: Andrew Reinert is a health care professional who loves to share different tips on health and personal care. He is a regular contributor to MegaHowTo and lives in Canada.
Comments (0)