By Jason Prickett on Apr 24, 2010 with Comments 0
---
Floors
Hard floors – cork, wood, laminate, ceramic, stone, slate, and marble – should be swept or vacuumed regularly. Go over them with a damp mop to keep them fresh. Special cleaners are available for different types of hard floor which will enhance their appearance. Polish sparingly and be careful – a highly polished floor will be slippery!
Lighting and lampshades
Use the crevice tool on the vacuum cleaner, if you have one, for fabric and paper lampshades. Glass fittings are best cleaned by hand with a feather duster or soft cloth, and occasionally wash them in mild washing-up liquid to keep the glass sparkling. Dust light bulbs, too.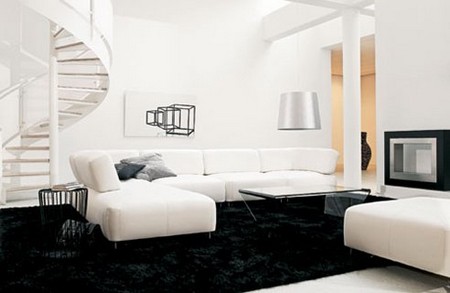 Curtains
Use the upholstery tool of the vacuum cleaner to clean curtains. Pay close attention to the outer folds, as these move less and retain more dust.
Rugs
Shake rugs outdoors and, preferably, hang them outside to air. Vacuum to remove any remaining surface dust and fibres. If the rugs are colourtast, shampoo them as you would a carpet.
Walls
Wash painted walls and washable wallpaper with a mild solution of detergent ami warm water. Make sure that your cloth is completely clean before you start, and wring it out well. Clean non-washable paper by dusting or vacuuming. Spot-treat marks with a pencil eraser, a ball of fresh white breadcrumbs or a damp cloth.
Vacuuming carpets
Use the nozzle attachment along skirting boards and hard-to-reach corners. It is quicker and more efficient to vacuum in straight lines – this also prevents you from missing any areas. Spot-treat small stains with dry-foam stain remover for carpets.
Venetian blinds and wood slat shades
Venetian blinds are awkward to clean but regular vacuuming with the upholstery tool will keep them dust-free. A useful tip when cleaning Venetian blinds is to wear washable cloth gloves, dip your fingers into soapy water, then run a finger along each slat of the blind. Rinse your gloved hands in clean water and repeat the process to remove any soap. Wooden slat blinds can be cleaned in the same way, but keep your gloves dry.
Entertainment systems
Televisions and music systems create static, which attracts a lot of dust. This can then be drawn into the internal workings of the machines. Dust or vacuum regularly and ttse anti-static wipes, especially on the television screen.
Fireplace area
Vacuum regularly to remove ash and dust. Painted and natural wood, tiled, and brick areas can be brushed clean with a soft brush dipped in mild detergent. You could also look for junk hauling near me to save time instead of trying to remove junk on your own.
Sofa and armchairs
Regular vacuuming will keep the fabric looking clean and fresh.
Shake and turn seat cushions frequently to keep their filling evenly distributed and to prevent uneven wear to the fabric.
Be careful with upholstered furniture placed in direct sunlight. Ultra-violet light will fade the colours and weaken the fibres. Use blinds it you have them. Close curtains during the brightest part of the day or protect your furniture with a throw – it will look good and protect the upholstery including a medical friendly upholstery.
Filed Under: Home & Maintenance
About the Author: Jason Prickett loves to write about home maintenance and stuff you can do yourself instead of hiring any professional. His step by step guides will assist you in completing your home maintenance tasks.
Comments (0)