By Alan Kennon on Aug 17, 2010 with Comments 0
---
Before you buy a uniform, ask your instructor if there's a spe­cific style he requires. Some instructors are extremely picky about the uniform their students wear—right down to the patch they want sewn on it. These instructors will either sell you the uniform themselves, or direct you to a store that sells the type he wants. Local merchants are often familiar enough with the schools in the area that they will know what uniform you should purchase. They may even be able to tell you the type of patch the instructor requires his students to sew on their uniforms. Though the merchant may even tell you where to sew the patch onto the uniform, double check with your instructor. Judo instructors, for example, usually require students to sew the patch on the right lapel of the jacket, since the left lapel is constantly grasped during workouts.
Jacket styles are fairly standard; the pants portion of the uniform, however, has been updated. Traditional-style pants are held up with a drawstring, which tends to shred and get tangled after many wearings. In addition, when the draw­string gets wet from perspiration, it becomes almost impossi­ble to loosen. After a particularly sweaty session in my school, it was a common sight in the dressing room to observe two students trying to free a fellow student from her pants by grabbing hold of the sides of the pants of the student in dis­tress and pulling until the drawstring gave, resulting in the two rescuers crashing into the walls as the drawstring finally loosened. Uniform manufacturers have addressed this prob­lem by offering pants with Velcro side closures or an elastic waistband, which in some cases also comes with a thin shoestring drawstring. In addition to updating closures, manufacturers have added a rear pocket on some style which is probably for holding a mouth guard.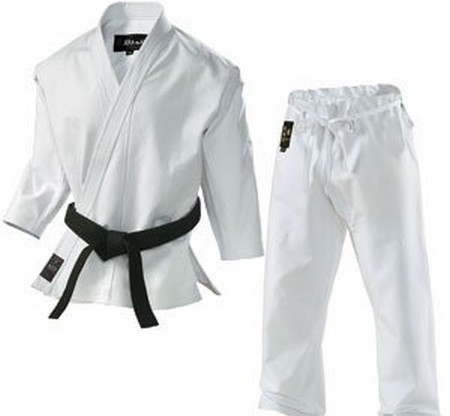 Though martial arts uniforms are meant to be baggy, it doesn't mean one size fits all. In fact, some uniforms come in as many as ten sizes. Most adult uniforms range in size from three, or small, up to eight, or extra large. Therefore, it pays to try a uniform on before buying it, making sure the jacket and pants are loose but not big. In most cases, you can mix sizes. I prefer my jacket to be a size larger than my pants—it's more comfortable and gives the illusion that I have more bulk on top than I actually do. If the merchant won't let you mix sizes, take your business elsewhere. Or buy your uniform from any one of the many mail order houses that advertise in martial arts magazines—most have hassle-free refund policies, but check before placing your order.
In most cases, your uniform will be white, except if your school uses its own color uniform. You do, however, have a choice of 100 percent cotton material or a cotton/polyester blend. AU-cotton material is more "breathable" and keeps its shape. It's also more expensive, and more likely to shrink and need ironing than a cotton/poly blend. I prefer a 100 percent cotton "canvas" uniform because it retains a crispness that adds "snap" to kicks and punches. To avoid ironing and shrinkage, I hang it dry. The result is a stiff, cardboardlike uniform that practically stands by itself. Though it's not for everyone, to me, it felt like I was putting on a crisp new uni­form every time, and as a bonus it added bulk to my sticklike figure.
Also, don't worry about the low cut of the jacket's neck­line. Wearing a T-shirt beneath your uniform will address that obstacle. Another essential for women martial artists is a sports bra. Not only is breast pain common during men­struation, it is a common problem for many athletic women. A Utah State University study found that 60 percent of female exercisers experienced breast discomfort during or upon com­pletion of their activity. For that reason, an everyday bra isn't as durable as a sports bra and won't give you the support you'll need.
When shopping for a sports bra, splurge and buy one that has a good deal of support. Studies have found that for A- and B-cup women, the common stretchy compression style is fine. For larger-breasted women, a stronger-knit compression bra, an encapsulation bra (which separates your breasts into two cups like a regular bra), or a combination of both works best. Considering that you may be working out in bare feet, which means no sneakers to cushion the space between you and the hardwood floor, you'll need all the support you can get.
A final word on T-shirts: More women are opting to wear only a sports bra beneath their uniforms. Others wear just a leotard and no bra. Still others are more comfortable wearing a T-shirt with the collar and sleeves cut off. Though you're welcome to wear what­ever your instructor allows, keep in mind that in some schools the instructor may ask students to remove their jackets during practice drills so he can correct mistakes hidden by the jacket, including raised shoulders, stiff hips, and bent elbows. It's a common drill in my school for the students to remove their jackets before performing punches and blocks in front of a mirror. Therefore, wear something in which you'll not only feel comfortable, but won't be embarrassed to be seen working out in.
Filed Under: Lifestyle & Personality
About the Author: Alan Kennon lives a very happy life with two kids and a lovely wife. He likes to share his life time experiences with others about how they can improve their lifestyle and personality.
Comments (0)