By Jason Prickett on Aug 24, 2010 with Comments 0
---
Having a deck both beautifies your landscape and accentuates your house. Building a deck is not a complicated as it may seem. The process may take basic skills and measuring but it isn't impossible to do at all. Here is how you can build a deck around your pool with moderate ease. Continue reading to find out how.
Difficulty: Moderate
Instructions
Things You'll Need:
2  x 4 inch boards
2 x 6 inch boards
4 x 4 inch posts
2 x 6 inch joists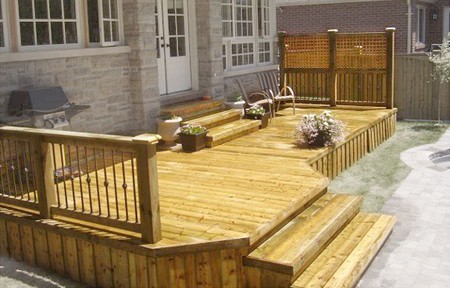 Concrete 2 inch screws
2 1/2-inch screws
Lag bolts
Pre-made stair stringers
5 x 6 inch deck boards
Step 1
Plan the area where the stairs of your deck will connect with the ground. You will need to know the area when you go to purchase your pre-made stringers.
Step 2
Use pressure treated lumber to build the frame of the deck. The deck needs to be constructed at the same height as the pool. Do this by building the deck slightly lower than the pool and adding the remaining height later.
Step 3
Make your main supports from 4 x 4 inch posts sunk in concrete. They should be positioned at least 2 feet deep around the deck. Use 2 x 4 inch posts attached in an "X" as a cross brace. Secure these together with lad screws and bolts. Use 2 x 6 inch boards as the joists. Attach the deck boards and lay them out around the pool.
Step 4
The railings of the stairs should measure 2 x 2 or 2 x 4
Step 5
The deck boards should be attached to the stair runners. The risers should be attached with stainless steel screws. You may also use coated screws as long as they are long enough to pierce through all the layers of wood into the stairs. The decking should be attached to the top of the 2 x 6 joists with the screws of your choice. They should be the same screws you used on the stairs. Trim the decking to accommodate the shape of the pool.
Step 6
Rail pickets should measure no higher than 3 inches apart. On the hand rails attach a top post. These are safety precautions from small children and young adults. After your deck is finished, make the decision as to whether you will enclose the bottom of the deck or leave it open. If you have decided to enclose it, there are options like pre made fence panels cut to fit depending on shape, height and size of the deck you built.
Step 7
Enjoy the convenience and beauty of your newly built deck.
Filed Under: Home & Maintenance
About the Author: Jason Prickett loves to write about home maintenance and stuff you can do yourself instead of hiring any professional. His step by step guides will assist you in completing your home maintenance tasks.
Comments (0)