By Arthur Kunkle on Feb 20, 2010 with Comments 0
---
Your balcony may be strong enough to take the weight of the full range of patio paving materials, but it would probably not be advisable to use the heavier paving slabs and stone setts as they will put unnecessary stress on the structure. Some mild climates extend the flooring options into more decorative but tough materials, such as clay and ceramic tiles or decorative mosaics which might crack if subjected to frost. In between there are a great many attractive options, including individual paving units in different shapes and colours for creating bonds, weaves and herringbone patterns. You can combine different shapes and shades to form an almost infinite variety of designs. For the most stylish effect, you could match the balcony floor to that of the adjoining room, especially if you ate using tiles or pavers, to create a superb feeling of continuity and space. A plate glass window or patio doors encourages the visual illusion.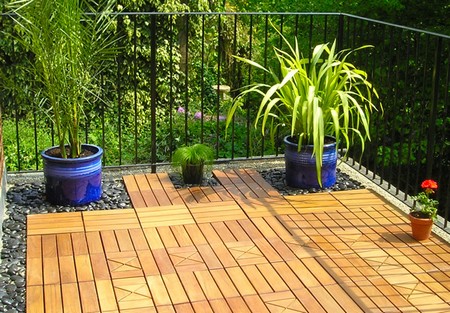 Timber decking
One of the most popular balcony flooring materials, and one which adapts itself particularly well to indoors and out, is timber decking. It is lightweight and flexible, making it ideal from a practical point of view, and capable of being extended neatly into other built-in features, such as furniture and staging. You can buy composite timber decking online. Sections can be laid in all manner of decorative herringbone and ornamental patterns, and the timber stained and varnished or painted to create a natural or dramatic finish. Decking is available in ready-made sections which can be fitted together in any combination you wish, and which make an excellent portable flooring for temporary transfor­mation of an existing, less attractive balcony floor. WA Timber Decking Professionals are Perth's most reputable builder of timber decking and structures.
If you are building your own decking, you can adapt it exactly to your needs, incorporating interesting changes of level, planters and other featutes. Hardwoods, such as redwood and red cedar, are ideal because they will not readily rot or warp. However, you can use softwoods like spruce and larch providing you are prepared to give them an annual treatment of preservative and an occasional stiff brushing to remove any slippery algae growth.
Filed Under: General How To's
About the Author: Greenery always attracts Arthur Kunkle. He has a big garden where he plants many fruits and vegetables. His passion for gardening motivates him to write and share different tips on gardening.
Comments (0)