By Arthur Kunkle on Jan 13, 2010 with Comments 0
---
The archetypal definition of a cascade is a small stream, purposefully tumbling over rocks, boulders and pebbles on its downward journey to a pool at the bottom of a slope. With the cascade itself comes the delicate sound of water splashing, trickling and gurgling, so creating an aura of tranquility.
Most garden cascades are modelled to appear natural, but modern and contemporary equivalents, using sheets of glass, stainless steel and wooden channels, are becoming more popular.
Prefabricated sections, available from most large garden centres in kit form, can be made from thin, lightweight concrete (fairly natural-looking), whilst others are made from shiny fibreglass or plastic. Whilst these latter sections are convenient to install, it is an almost impossible task to make them appear 'natural'. These artificial cascade units can be bought as a short, self-contained header pool/cascade, or as several units which fit together to make longer courses. Even though these come, more or less, as ready-made cascades, you will certainly have to spend some time on preparation work if the whole thing is to look authentic.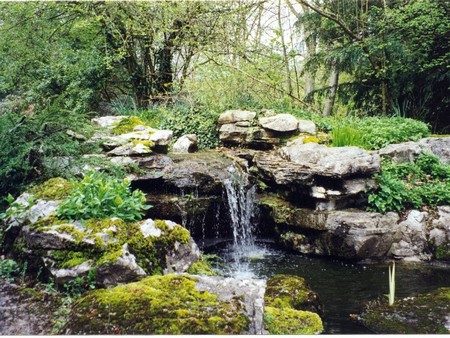 A domestic garden cascade can be fairly vertical, with a series of rocks protruding from each other forming the water course, to a shallow nearly level course, where the water appears more as a stream.
In practically every way, a cascade should be treated as if it were a waterfall, even though there is no significant free-falling of water.
A water staircase
French and Italian designers in centuries past made great use of the 'water staircase', by using lengths of concrete drainage pipe, or some such, set in a bed of concrete. Each succeeding length of pipe is set below and slightly out from its predecessor thus forming a staircase with rounded steps, down which sparkling, silvery water will tumble. Disguise the ends of the pipes with rocks or plants. This type of feature works best if there is sufficient water flowing over it, so do not skimp on the size of pump.
Filed Under: Uncategorized
About the Author: Greenery always attracts Arthur Kunkle. He has a big garden where he plants many fruits and vegetables. His passion for gardening motivates him to write and share different tips on gardening.
Comments (0)