By Jason Prickett on Sep 15, 2010 with Comments 0
---
Having an extra cabinet to accommodate storage needs to eliminate a lot of clutter. Extra storage space may be an issue for even small families today. Spaces are seemingly becoming more limited in apartment homes and condominiums, if you encounter such then you must have a closet systems, because it'll be inconvenient to just put it all inside without organizing those. Kitchen cabinets are a great way to make sure those needs are met. We will be looking at how to make a large cabinet that measures and stands from ceiling to floor You don't have to worry about storing necessary items in bins or overfilling existing storage spaces. You can build your very own cabinet that will satisfy your exact needs and match your living décor. You can build a cabinet for your linen quickly and with a relative amount of ease. Give it a try. Here is how you can build cabinets. Read on to learn how.
Procedure:
Items You Will Need:
Decorative Baskets
8 ft Sheets of Wood (five)
Saw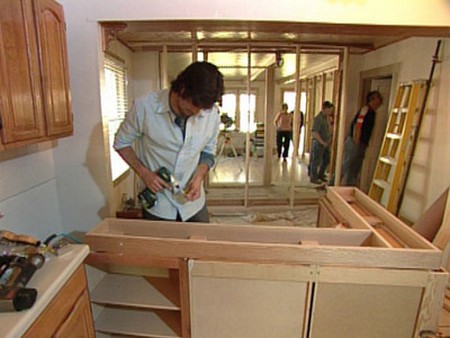 Sealer
Wood Glue
Tape Measurer
Stain or Paint
Wood Screws
Step 1
Measure the space the cabinet will go in from floor to ceiling. We will build an 8 foot tall cabinet that stands from floor to ceiling. The best aspect of having such a tall cabinet is that you can store things you don't use frequently on the higher shelves.
Step 2
Cut the wood to the right size. Cut two pieces of wood to measure 8 feet tall and 3 feet deep. These two pieces are the side of your cabinet. Now, cut the top and bottom into 2 foot deep and 5 foot wide sections.
Step 3
Use wood screws and glue to secure the sides of your cabinet together to the top and bottom. Use about four screws on each side. Ensure the top and bottom pieces fit inside the side pieces of the cabinet. When you view the cabinet from the side perspective, you should not be able to see the top or bottom of the cabinet.
Step 4
The shelves should be places in at a distance of 18 inches apart. The extra shelves and space in your cabinet can be used for almost anything. You can place towels, linens and more inside your cabinet.
Step 5
Paint or stain your wooden cabinet to whatever color suits your décor and personal tastes. Allow the paint to completely dry. Once the paint dries, treat the cabinet with a sealer. This will protect the cabinet from moisture damage and rotting.
Step 6
Accessorize your new storage cabinet. You can use baskets, silk flowers and other small items to spruce it up. You can place items according to their use and convenience factor to you.
Step 7
Enjoy your new cabinet.
Filed Under: Home & Maintenance
About the Author: Jason Prickett loves to write about home maintenance and stuff you can do yourself instead of hiring any professional. His step by step guides will assist you in completing your home maintenance tasks.
Comments (0)