By Jason Prickett on Sep 15, 2010 with Comments 0
---
Building an outdoor fireplace is quite a unique idea. You're sure to raise a few eyebrows and turn a few heads. Here is how you can build an outdoor fireplace according to a Weiner architect. Read on.
Difficulty: Moderately Challenging
Instructions
Things You'll Need:
Pre-fabricated Fireplace
Fireplace screen
Cement
Bricks and stones
Tiles
Paint
Firewood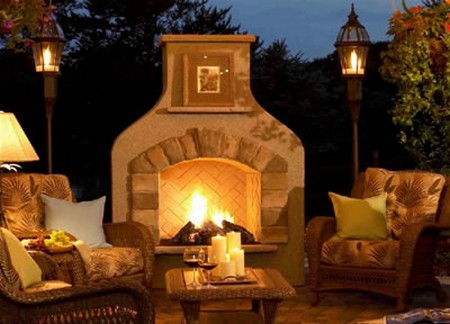 Step 1
Location is everything. Choose the place where you want to build your outdoor fireplace. Contact your city to make sure you are educated about the laws and ordinances you have to follow when building an out fireplace. There may be some restrictions in regards to safety and air quality. You may also need a permit to build prior to starting. Do your homework before purchasing any materials.
Your outdoor fireplace should be away from all plants, building and homes that could catch fire or be damaged in any way. There is a chance of stray sparks causing a fire. So, plan for your outdoor fireplace to be at a safe distance.
If you desire to have chairs around your outdoor fireplace, make sure they are also positioned at a safe distance. They should measure a minimum of three feet away form the outdoor fireplace to prevent any hazards.
Step 2
Go shopping for a wood fireplace or gas fireplace. Just choose the one that's right for you. You can buy pre made fireplaces that have safety measures built right in. Use vent free gas logs as it gives much better heat output than others. You can also do this by hand with separate materials if you are up for the task.
Step 3
Prepare your site. The area where you fireplace will be needs to be cleared. Remove any plant life and other materials that may be dangerous. Make a platform for your outdoor fireplace with cinder blocks or concrete. Add tiles around the perimeter.
Step 4
Now it's time to do the fireplace installation. Follow the instructions carefully that can from the manufacturers.  Make your chimney as tall as you are able. Make the fireplace opening lower to improve draft. This will protect the fireplace from the wind. You don't want smoke drifting in. You can also add a chimney pot to increase the height of your chimney. You need to test run your fireplace before the last step.
Step 5
After the pre made fireplace is installed properly according to maker specifications, you can make your fireplace unique. Add bricks and blocks. Then you can decorate with stained concrete or any painted material to enhance the overall design of your fireplace. Rocks, tiles and other material can give your project a nice finished look. Last, you'll need to snap in a fireplace screen. Place some firewood inside the fireplace for to use when the occasion presents itself. Enjoy your fireplace.
Filed Under: Home & Maintenance
About the Author: Jason Prickett loves to write about home maintenance and stuff you can do yourself instead of hiring any professional. His step by step guides will assist you in completing your home maintenance tasks.
Comments (0)