By Jason Prickett on Sep 27, 2010 with Comments 0
---
Tree houses are a popular request from children. They are fun, exciting and can come in various plans, designs and shapes. Building a tree house will take some effort but the end result is well worth it. Here is how you can build a tree house.
Tips to Build a Tree House
Hire an expert to look at your trees before you begin to build your tree house.  The expert will let you know if the tree you would like to build your tree house in is sufficient. If the tree is not strong enough to hold the house, it could be very dangerous. The tree has to be strong and thick and able to withstand weight. The tree must have strong roots that are buried in the ground, and it must not have any insects on the tree that will weaken it.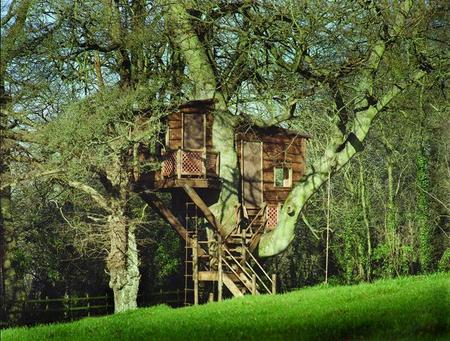 Find a Good Tree House Design
Search the internet for tree house plans. You can find pictures that will illustrate how your tree house will look once finished. The plan must align with the type of you tree you are going to build it in. The tree measurements are important and should be taken into consideration when trying to find a good design.
Build a Tree House Platform
The first step in building your tree house is getting the platform constructed. Nail a few planks of wood to the wood trunk to serve as a ladder. Nail planks together to form a platform. It should span two or more branches. The branches need to be close together. Test you platform to see if you can sit or stand on it securely.
Think about How much the Tree House is going to weigh
Any tree house's most important aspect is how much is it going to weight. You need to use various types of wood to build a tree house. It should weigh as little as possible. The heavier the tree house, the greater the risk involved is. Pay close attention to things that may add additional weight like the furniture in the house. Plastic chairs would be a better option than metal chairs. However, the weight and pressure aspects of your tree house should not deter you. These are hard to figure out if you're an amateur builder. But for an expert this would pose no problem to assess. For this reason, you may consider hiring professional builders and roofing contractors to complete this project.
Add some individual elements of distinction. Make the house unique to you. You can do this by using a wood that fits a certain design, using furniture that speaks to your personality, or even taking the time out to make a sign with your child's name and a fictitious address on it.
Filed Under: Home & Maintenance
About the Author: Jason Prickett loves to write about home maintenance and stuff you can do yourself instead of hiring any professional. His step by step guides will assist you in completing your home maintenance tasks.
Comments (0)