By Jason Prickett on Aug 24, 2010 with Comments 0
---
Building a sailboat is a great hobby. Children and adults alike enjoy engaging in this classic hobby. You can still find materials to build your own sailboat at a hobby store. Here is how you can build your very own sailboat. Continue reading on.
Procedure:
Required Materials
aircraft plywood
epoxy glue
graph paper
pins
Required Tools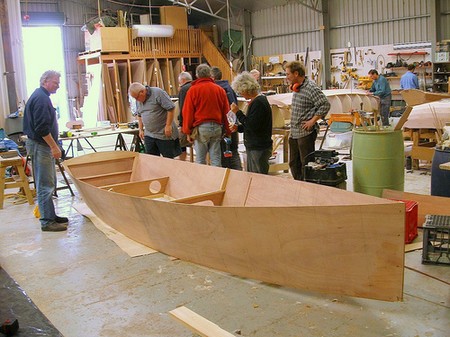 modeling knife
scissors
tape measure
clamps
pencil/paper
Instructions
1. American Model Yacht Association (AMYA)
There are different levels to model ship building. Take time to familiarize yourself with the AMYA rules and regulations. These rules are known to be somewhat stringent. The best option to take is to check to make sure your model is eligible. Each model sailboat has its own set of requirements. Dimensions, materials and coating all vary according to the model of sailboat being assembled.
Basic Hull
Every boat model has various designs available when choosing your hull. Take your time and look over the designs that fir your sailboat model. If your sailboat is comprised on aircraft plywood, you'll need several pieces. The plywood needs to be steamed so that it meets shape and dimension requirements for each sailboat. A fiberglass coating or impregnated cloth resin may help give your sailboat a sleek and finished look. A solid plan will be very instrumental in helping and making your sailboat assembly go easy. There are full pre made plans available.
Decking
The AMYA has specific rules for securing the decking of the boat. There are different deck layouts to choose from. You'll need a good eye and steady hand to assemble the cockpit features and accessories.
To Do List
there is a 'to do' list with any endeavor started. To make things slightly easier, choose the option of buying ready built parts. You can buy a pre built sail and mast. The two items may take quite a bit of time to make and can be bought rather than made by hand. You may also purchase a radio controller.
Jigs
Building jigs as you move along in assembling your sailboat. It's a great way to not have to ask for any assistance. Jigs will keep your sailboat project steady as you move along to complete the other parts. A jig will also prevent the hull of the sailboat from tipping over as you work on other elements.
Patience
This building project can be a little more engaging because there are so many miniature parts to form. Then, exacting all the specifications for the model sailboat can really test the patience and perseverance of the builder. Building your sailboat will take hours. But, the end result will be completely rewarding.
Filed Under: Home & Maintenance
About the Author: Jason Prickett loves to write about home maintenance and stuff you can do yourself instead of hiring any professional. His step by step guides will assist you in completing your home maintenance tasks.
Comments (0)