By Jason Prickett on Aug 24, 2010 with Comments 0
---
How to Build your Own Raft
Going rafting just like the ones at American Whitewater Expedition is a great past time. Many people find it extremely fulfilling and relaxing to float down a river. Building your own raft can only enhance your experience. Here is how you can build your own raft.
Procedure:
Required Materials
marine foam
2×10″ pressure-treated lumber
bolts
ratchet
screws
decking
paper/pencil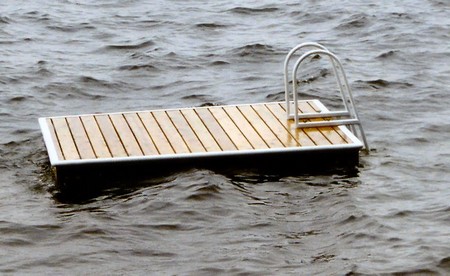 Required Tools
knife
circular saw/table saw
drill with full bit set
hammer
Instructions
Size and Weight
The two most important factors to pay attention to when being a raft are weight and what you plan to use the raft for. Rafts that are larger and weigh more are great for swimming. But, if you are building a raft to float on a river, it needs to be lightweight to ensure it is easily transportable. You'll generally use the same building technique no matter the type of raft you plan to build.
Layout
A raft of, no matter the type, is not a complex project to complete. You will have to assemble materials and use tools; this may be the most difficult aspect. Make note the bigger and wider a raft is constructed, the more stable it is.
Cutting Materials
The raft we are building measures 15×15′. Begin with cutting eight 2×10″ boards in half. Then, attach the boards to eight 2×10″ full length boards with 2×4″ blocking. Screw the boards together with galvanized screws or marine screws. Remember to countersink the heads of the screws. Position your raft close to the water before you've completed it. This is so you don't have so far to travel to the water.
Assembly
Attach side boards to treated 2×4″ blocking at the third and middle positions of the raft. Doing this forms a two-board wall with a 1″ space between. Secure the four walls using blocking and screws. Number the corner blocks. Screw the securely in place. Cut your marine foam to the appropriate size. Locate the floor joists along the side walls. Cut the floor joists to 7′. Attach a 2×10″ board section. Position it across the box from center point to center point.
Cutting the Foam
Use marine foam to fill any of the spaces between the floor joists. Marine foam is the best substance for floating. The next is 'home center' foam, then, general 'floaties'. A knife or hot wire is the best tools to shape and cut foam materials.
Decking
After you have constructed your raft, consider building a deck. You can make it out of plywood or 2 x 10s. Here, make your decision according to weight, durability and function. Have fun with your new raft.
Filed Under: Home & Maintenance
About the Author: Jason Prickett loves to write about home maintenance and stuff you can do yourself instead of hiring any professional. His step by step guides will assist you in completing your home maintenance tasks.
Comments (0)