By Cody Riffel on Sep 14, 2010 with Comments 0
---
There are quite a few options you may choose to improve your short game in golf. Many professional have a putting green right at their fingertips in the privacy of their own backyards. Building a putting green is a great way to allow yourself the time to practice and improve your game. If you want to say goodbye to your handicap, then building your own putting green is the best option. Here are the aspects to consider when building a putting green.
Procedure:
Drainage
Drainage is a major aspect of building and maintaining a putting green. Water needs to be able to be evacuated easily. Rain or other water will make any putting green unstable and unsuitable to play on. The quickest way to ensure good drainage is building on level ground with a slope.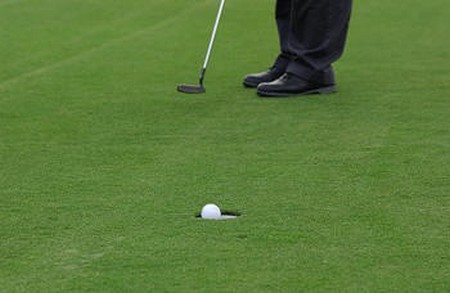 Sand
Putting greens are not tolerant of water. The soil must have some sand composition. The sand will absorb moisture and to endure the heavy weight of foot traffic of players and spectators.
Alternatives
People get discouraged by the idea of maintaining a putting green. However, you can construct a putting green out of synthetic material. There are manufacturers who offer synthetic grass and other materials for putting greens. Some golf courses even opt to use synthetic grass.
How to Do It
Decide whether you will build the putting green yourself or contract someone else to do the job for you. Outside contracting may increase the expenses of the project, but the end results may be better if professionally built. Look to professional green installers to help you with your materials. If you're doing this yourself, measure the area that the putting green will be installed over. Use a measuring tape and write down all the dimension of the land. You'll need these when you go to purchase the materials.
How much will it Cost
Some putting greens can be about $50,000. Putting one is your back yard won't be as much money. You can build a reasonable one for just a few hundred dollars.
Maintenance
If you are building a putting green using natural grass materials, you will have to invest in another type of lawn mower to maintain the area. The regular rotatory blade lawn mower cannot be used. The lawn mower you need uses a reel type blade. You can buy one for around $280. Some of the lawn mowers are electric, hand powered or gas powered.
You will need to fertilize your greens, top dress, aerate, and get rid of herbicides and pesticides. There are some methods used that may be a little more expensive and there are less costly options. Even if these cost more initially, they may save you money in the long run.
Filed Under: Sports & Fitness
About the Author: Cody Riffel is a regular contributor to MegaHowTo. She likes to write on variety of topics, whatever interests her. She also likes to share what she learns over the Internet and her day-to-day life.
Comments (0)