By Arthur Kunkle on Feb 20, 2010 with Comments 0
---
If a building boasts serried ranks of balconies, the owner might be spoilt for choice over which one to use and when. The most common and profitable place to site a single balcony, however, is adjoining the sitting room, or some times the dining room. Both are ideal choices for outdoor room extensions, as a small balcony could offer a superb plant display while a larger area could be furnished in the same style as the main room. Hi-tech, cottage, chalet a vendre or a slick city look all are possible styles to consider.
The outdoor dining area
Installing a table and chairs will make eating outdoors, possibly with the prospect of spectacular urban or country views, irresistible. If you enjoy entertaining and plan to use your balcony as an outdoor dining room, you will want to take especial care to create the right ambiance. The furniture should be more comfortable than basic garden chairs so your diners will be encouraged to linger, but if you must make do with your existing utilitarian chairs, you can always dress them up for special occasions with tie-on cushions made from an appropriate fabric. Not only can they be matched to your table linen or a party theme, but they are also easily removed for cleaning or bringing indoors at the end of the day. Visit rtaoutdoorliving.com for more ideas.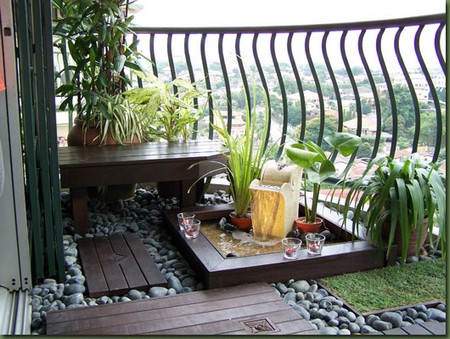 Finding the right lighting
Dinner parties will require some form of lighting, unless a mid-city location provides its own illumination; candles are delightful but they do tend to flicker outdoors and can also attract a variety of insects. You could enclose your candles in special lanterns or glass jars; alternatively, if you plan to use the balcony often, it may be worth planning and installing a proper outdoor lighting system. Different types of lamp or spotlight can be concealed overhead, attached to walls and screens or hidden within the plant foliage to cast well-diffused light and interesting shadows. Some forms of garden lamp are more decorative and can be treated as accessories as well as a practical means of seeing what you are eating.
Cooking on the balcony
Dedicated al fresco diners like to cook on their balconies as well as eat there and will find room for a barbecue. Unless it is very large and sturdily built, the balcony may not be suited to one of the brick or stone built-in types of barbecue, which are efficient, convenient, good space-savers and almost obligatory for classic walled or concreted Mediterranean balconies or roof terraces. However, there are a great many lightweight free-standing barbecues that take up hardly any space and which can be folded and put away at the end of the season.
Whatever type you choose, it is important to select a model and size that is suited to your needs — it is no fun catering for ten on a grill designed to feed two. Whether you choose to fuel it on charcoal (messy) or bottled gas (heavy to carry upstairs) will be determined by personal taste and practical considerations. When you have chosen your barbecue, you should make sure you know how to operate it properly. This is not just for safety reasons (a fire extinguisher on the balcony should be obligatory) but to save your own frustration and that of your neighbours.
Filed Under: General How To's
About the Author: Greenery always attracts Arthur Kunkle. He has a big garden where he plants many fruits and vegetables. His passion for gardening motivates him to write and share different tips on gardening.
Comments (0)