By Jason Prickett on Aug 24, 2010 with Comments 0
---
Are you looking for ways to add some extra charm to your front or back yard? Consider building a fountain. A fountain can bring an added element of beauty and serenity to any landscape. Here is how you can build your own custom fountain in an easy and cost efficient way. Read on.
Procedure:
Horse Drinking Tub
Shovel
Sand
Water Hose
Cinder Blocks
Clay Pot
Pump
Rubber Hose
Mulch (optional)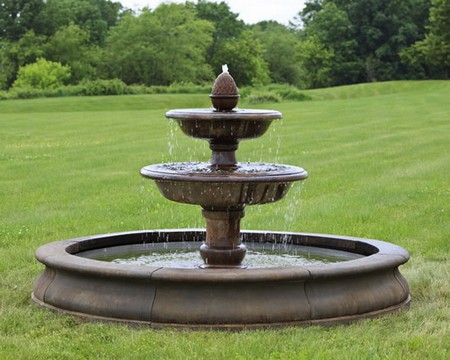 First you'll need to prepare the location for your fountain. Use your tub to measure the hole you'll need to dig. Make your hole 4 feet shallower than the tub you plan to use. The hole will be approximately 2 inches deep. You may opt to purchase a horse drinking tub from the feed store. It's a cheaper alternative than the plastic tubs from a pond or big box store.
Step 2
Put your tub inside the hole. Leave approximately 4 feet of the tub above the ground.
Step 3
Place warm water in the tub.
Step 4
Fill the area around the tub with sand. Use a water hose to pack the sand in the tub firmly and securely.
Step 5
Prepare your cinder blocks by spray painting them black. You don't want them visible. Paint the sides and insides and allow then 20 minutes to dry thoroughly.
Installing the Pot
Step 1
Stack the painted cinder blocks on top of each other.  Now, place them inside the water.
Step 2
Assemble the flexible tubing and pump. Fasten the apparatus with a hose clamp.
Step 3
Place a clay pot upside down next to your black cinder blocks. Put the pump onto the clay pot. Thread the tubing through the hole in the clay pot. If there is not a hole on the side of the pot, near the bottom, use the hole on the bottom of the pot. If the hose is not wide enough, and allows water to escape, you can make the hose wider by sliding a larger piece of tubing over it until it fits securely through the hole.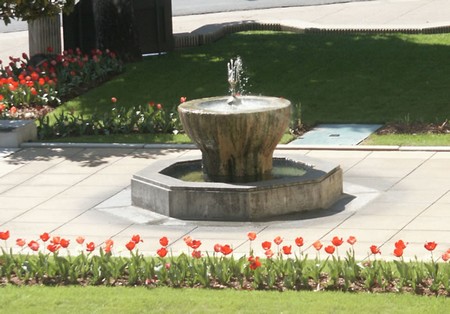 Step 4
Plug in the pump. The pot will fill with water. Fill the tub the rest of the way with a water hose.
Step 5
Fill the area around the 4 feet of tub with soil. You may add decorative rocks and other things to disguise and beautify your fountain.
Step 6
You may place plants around the area or mulch. Decorative stones would be a great addition. You can allow your rocks to hang over the top by a few inches for added flare.
Step 7
Enjoy your new fountain.
Filed Under: Uncategorized
About the Author: Jason Prickett loves to write about home maintenance and stuff you can do yourself instead of hiring any professional. His step by step guides will assist you in completing your home maintenance tasks.
Comments (0)