By Fred Goodson on Mar 08, 2010 with Comments 0
---
Plaiting or braiding a mane and tail makes a horse look smart when appearing in a competition. It helps to show off their looks and conformation to the very best advantage. In some showing classes, certain breeds such as purebred Arabs and mountain and moorland ponies, do not require plaiting-all of these are encouraged to have long flowing manes and tails that accentuate' their movement. However, for those horses that suit braiding, the results can be breathtaking.
Plaiting the mane
Make sure to begin with a clean, well-pulled mane that has been combed over onto the horse's right-hand side and that is approximately 4-5 in (10-13 cm) long.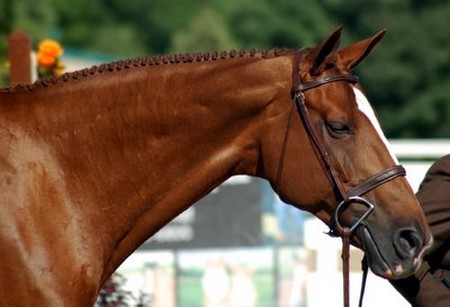 Dampen the mane slightly with water and divide it into an odd number of equal sections from the withers to the poll, with the final plait in the forelock making an even number of plaits on the horse.
Stand on a sturdy box and divide one section of mane into three smaller, equal strands.
Begin to braid that section by tightly passing the right strand over the central one, then the left strand over the central one, and so on until the plait has been completed neatly.
Fasten the end of the plait with either a small elastic band or needle and thread that matches the color of the horse's mane.
Finish by rolling or doubling the plait up underneath itself until it is secured firmly at the base of the mane.
Enhancing the appearance
A horse's appearance can be much improved by clever plaiting:
Create an optical illusion of features looking bigger and stronger by securing the plaits high up on the horse's neck.
Plait close into the horse's neck to draw the attention away from too much bulk.
Use several smaller plaits to make a neck look longer.
Use fewer and bulkier plaits to add length to a short neck.
Practice makes perfect
A neatly plaited horse is a real sign of professionalism and it is well worth putting in the hours of practice at home to get the effect just right on the day. It can take up to two hours for a complete beginner to plait a horse, but an experienced groomer can prepare a horse's mane and tail in just over half an hour.
Tails
Although it is the current fashion for the tail to be neatly pulled, it is a great finishing touch to use a French plait from the base of the tail down the length of the dock, completed by fixing the remaining hair in a neatly plaited loop.
Filed Under: Pets & Animals
About the Author: Fred Goodson has a passion for pets and animals. He has 4 dogs and is planning to have another one. He is also a blogger who writes about pets and animals. Currently, he is living in New Jersey.
Comments (0)