By Andrew Reinert on Sep 21, 2010 with Comments 0
---
A physical therapist works with patients recovering from an injury or physical disabilities, helping to treat abnormal conditions and injuries that limit patient mobility. A physical therapist from a physical therapy center designs a patient's therapy, using exercises and body manipulation that work with the patient over a period of time. If you want to work proving physical therapy treatment, you must complete a post-baccalaureate degree in physical therapy and earn board certification.
Step 1
Complete a bachelor's degree in physical therapy. Your curriculum should include numerous courses regarding to practice physical therapy. Biology, mathematics, statistics, chemistry, human anatomy and physics coursework are typical.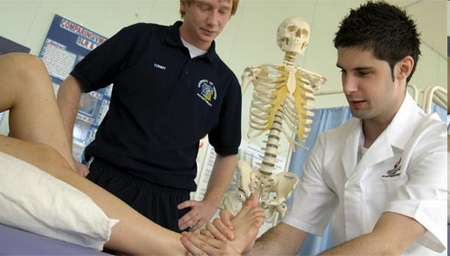 Step 2
Maintain an excellent educational track record. A competitive and fast-growing career field that demands proper education, training, and certification, physical therapy requires good grades. Building relationships with your mentors can also help when it comes to referrals and recommendations.
Step 3
Pass the national and state licensing exams. All states require passing national and state examinations in order to work as a physical therapist. Only when you pass the exam can you legally practice physical therapy.
Step 4
Polish your social skills. Physical therapists have to face different kinds of patients as well as their families and caretakers. A person who knows to interact properly with different personalities remains a major key in successful physical therapy practices.
Step 5
Maintain your own physical fitness. Good physical fitness will reduce your risk of injury on the job. Remember, you will likely have to help lift patients and guide them to move around, so you must have good strength and stability.
Step 6
Visit the main site of American Physical Therapy Association (APTA). This association provides up-to-date data about physical therapy, including a list of accredited schools.
Step 7
Consult nearby hospitals, health programs and even private therapy services about their services. Experience as an intern can increase your job chances after you graduate.
Step 8
Consider specializing in a specific field of physical therapy such as neurology, pediatrics or sports medicine. Consult with the university counselor about these fields and how to obtain a degree for these specialties.
Step 9
Consider consulting options. Many physical therapy providers hire students who have completed three years of a pre-physical therapy program. Think this through carefully. You may want to get a master's degree or obtain a doctorate for physical therapy.
Filed Under: Health & Personal Care
About the Author: Andrew Reinert is a health care professional who loves to share different tips on health and personal care. He is a regular contributor to MegaHowTo and lives in Canada.
Comments (0)