By Bruno Silva on Mar 14, 2018 with Comments 0
---
Due to high demands of reality and taped cooking TV shows, the demand as well for televised chef has grown quite promising. A TV chef must possess the following qualities: effective teaching skills; good camera presence; chef wear and, of course, a cook who has mastered his own specialties. To become a TV chef, you must have extensive skills and knowledge in the field of cooking, convincing charisma to teach others, and the ability to attract viewers' attention. The casting department will call back qualified candidates to meet the producers responsible for the show. Throughout the film meeting the producer will decide how the applicant's personality will transform into the show and decide if the applicant fits.
Get yourself into culinary training, whether through formal means or in a professional working kitchen, buy professional knives at https://viebelles.com. Take culinary training programs include media training, which highlights working in a television setting, in their standard curriculum due to the high demand for cooking shows. Most cooking programs turn away from the classical and traditional ways of cooking; however, training and certifying at any reputable culinary program or school gives you an advantage to establish trust and credibility with the viewers.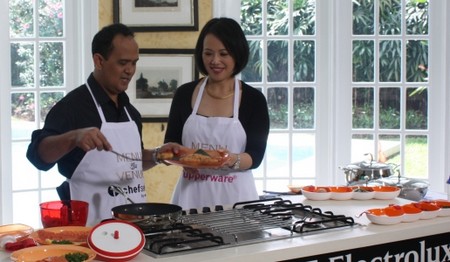 Get involved in an acting class. Cooking shows function like television commercials because both have limited time to connect with the audience, build trust and encourage viewers to support and buy a certain product or service. Normally, a cooking show concentrates on selling, promoting and convincing people to subscribe to a recipe, cooking idea or technique. It also offers a way to introduce new trends when it comes to processes, preparation, cooking and presentation.
The main purpose of a television cooking show's TV chef remains to educate and instruct audiences confidently. You have to develop these skills through commercial classes or workshops. These introduce how professionals produce films as well as the realistic scenarios while filming the show, providing the dos and don'ts during an audition so students learn how to communicate an idea confidently and with a natural approach while the film rolls.
Try out for a cooking show. Opportunities are at their peak for TV chef wannabes through reality shows revolving around cooking. You can also apply as a contestant for a program wherein the winner gets to host his own cooking show for a certain period or contract time. This kind of exposure provides a priceless chance for media publicity and experience and can open you up to greater opportunities sooner or later. Some of those who did not make win on Fox's Hell's Kitchen or Bravo's Top Chef continue their TV careers through hosting their own cooking-related television programs.
Filed Under: General How To's
About the Author: Bruno Silva is an entrepreneur from Portugal with over 15 years of experience in Online Marketing. He is also a blogger and writes on variety of topics from online marketing to designs, cars to loans, etc.
Comments (0)