By Alan Kennon on Sep 21, 2010 with Comments 0
---
So you want to be a model. Lots of girls do, and some even become models. Many more girls get sucked into scams. They listen to people who promise to make them a star, but those people just take their money … or worse.
Cheli Cerra has been a model for designers like Calvin Klein. She has heard it all. She remembers when she was a teen, people would always ask her, "Are you a model?" She wanted to be one but didn't know how. First, weed out the scams. And Cheli tells you how:
Fortunately for me, a family friend who was already model­ing showed me the ropes and told me what to do. She also told me what to watch out for and I will gladly share this with you.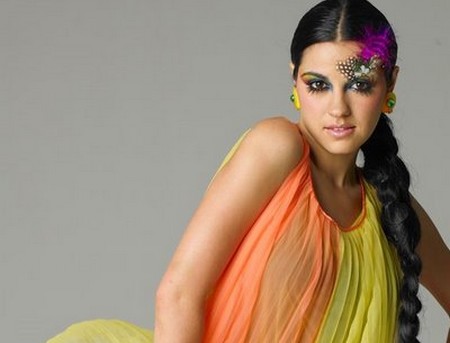 One common and dangerous scam is to be approached off the street. A man (or woman) approaches you and asks if you are a model. He claims to be a photographer and gives you his card. He says he wants to shoot some pictures of you. He has connections. He can make you a star. Don't fall for it. Keep walking. Never take off with a stranger who ap­proaches you; this is the older version of what you learned to refuse when you were little: "Little girl, do you want some candy?"
Suppose the "photographer" says there is a modeling shoot right now and you need to go with him right away. DO NOT go. Any professional photographer and profes­sional modeling agency plans ahead for their fashion shoots.
Here is more advice from Cheli:
Never go to a photo shoot alone. The best thing to do is bring a parent or adult.
Never let a photographer talk you into something you don't want to do. This includes taking off your clothes or having something to drink (in case it is drugged).
Don't pay a huge amount of money to get your photo taken. Some photographers claim in their ads that they will guarantee you a modeling job. First, you have to get your photos taken with them and pay them a couple thousand dollars. Hold it right there. A reputable professional photog­rapher will not charge this price for modeling pictures. When shooting with a photographer for the first time, always check them out by asking for references.
Don't believe that you have to take off your clothes to get a legitimate modeling job. Legitimate modeling agen­cies don't accept nude or pornographic photos. A photogra­pher who tells you otherwise and asks you to do a lingerie, swimsuit, or nude shoot only wants to get you out of your clothes.
Don't go to a modeling agency that advertises that yon can "Become a model for $500" or another certain amount of money. Legitimate modeling agencies do not ask for a modeling fee to see you and evaluate your model­ing potential.
Don't sign anything you don't understand or haven't read. If you are a minor, you'll need at least one parent's sig­nature. If you aren't a minor, still let your parents and possibly a lawyer take a second look. If it's legitimate, it can't hurt to have them check it out.
Watch out for Internet modeling agencies. Know who the company you are working with is. Find the answers to these questions: Do they have a street address? Do they have a section that tells you what they do with your personal in­formation? Is there a privacy statement? Is there a person listed as a contact with a legitimate phone number, not a cell phone? Legitimate modeling agencies use the Internet as a tool but have "brick and mortar" places of business. If you have any doubts, call the Better Business Bureau or check them online. Many states have laws and these laws make agencies hold state licenses.
Filed Under: Lifestyle & Personality
About the Author: Alan Kennon lives a very happy life with two kids and a lovely wife. He likes to share his life time experiences with others about how they can improve their lifestyle and personality.
Comments (0)