By Vanessa Page on Oct 28, 2010 with Comments 0
---
The truth about Michelin star ratings? They do not award a chef but rather the restaurant or hotel. However, a chef plays a vital and lead role in achieving and winning this award. Another truth? Getting a one star rating remains a rare achievement and doesn't signify a restaurant or hotel eatery is a low class establishment. Achieving a multiple-star remains an even rarer recognition. Most professional chefs has as their ambition to win a Michelin star; however, it will take great effort to do so.
Train yourself by acquiring a job as early as you can in a restaurant run by a respected French chef. Work your way up, exhibiting hard work, passion and talent consistently until you get noticed and considered by the chef as a regular trainee. Learn and apply the knowledge you gain from this early stage of your journey. Your experience will prove a valuable tool in achieving your goal.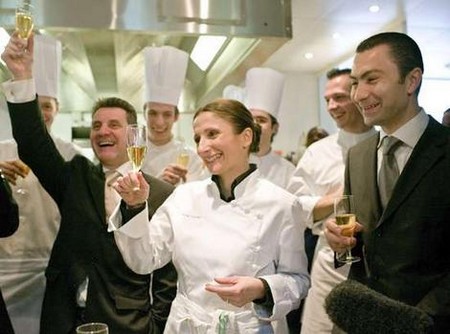 Get out from the journey chapter of your career when you think you have acquired what you need to learn from your guru. This is the practice in France. You must secure employment in different restaurants and train under different chefs. You must learn each function of every professional chef.  Master all stations in a professional kitchen and their individual roles. Get along with every single staff member and accept each individual's differences. Bear in mind that you are the student and not the teacher. Have as your goal to learn and gain experience for your own advantage.
Apply for a sous chef position at a reputable and prominent restaurant or establishment. Having vast experience as a chef will help you develop your talent and techniques with different cuisine. Experience will assist you in mastering your craft as a chef. Continue seeking new knowledge and techniques.
Stay loyal to the establishment with which you work. Most chefs stays at a certain hotel or establishment for a long period of time because they feel that it is their responsibility to maintain the standard and high quality of food served to loyal customers. When the chef retires, step into his role and continue the legacy.
Run the kitchen's restaurant skillfully. Maintain the quality of food offered. Combine it with an artistic side and creativity as you aim for first-class food presentation. The entire facility should be clean and well decorated in a fashionable and modern way. Hire skilled staff trained in providing world-class service.  The food, desserts, wine and look of the restaurant in a hotel or a independent restaurant itself—along with the quality of service—work together to make an establishment successful. Michelin inspectors look for these factors when rating an establishment. Remember, every details count.
Filed Under: Work & Careers
About the Author: Vanessa Page works a career counselor in one of the leading firms in Los Angeles. She is also a blogger and gives tips on how people can tackle their work and career issues. She has 8 years of experience in this field.
Comments (0)