By Roberta Southworth on Mar 06, 2010 with Comments 0
---
Asking your child to pray at meals, at bedtime, and in emergencies is a way of saying to your child, "I value your relationship with God." Can there be any higher relationship for you to value than that?
Very often children are excluded from prayer times. They are prayed for, over, and around. The meals they eat are blessed for them. And often, the child is left to wonder, Does God only hear adults?
Give your child the opportunity to communicate with God in an open, verbal way in your presence. Ask your child to offer the blessing at the breakfast or dinner table. Ask him or her to pray before you leave your driveway on a vacation trip. Ask your child to pray for the family before you get ready for bedtime.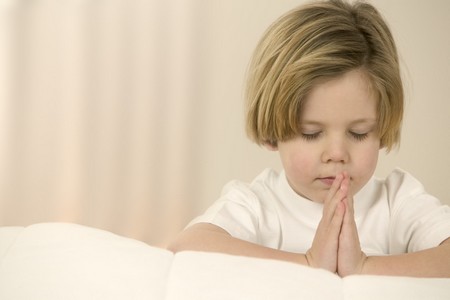 Whenever it's appropriate, invite your child to par­ticipate in group prayer times or to offer a prayer in a group setting.
I recently was at a prayer meeting in which all of the adults took turns praying about a particular crisis. The prayer time over, as far as we were concerned, we all said "Amen" and began to talk about other matters. Suddenly, the only child in our midst, a five-year-old, shouted, "Wait a minute." We all turned to stare at her. "Wait just a minute," she repeated. "I didn't get to pray."
Believe me, we all bowed our heads and gave her ample opportunity. And what a prayer she prayed! We had no doubt that God heard Abigail that evening.
But what if my child refuses to pray when I ask?
Don't require that your child pray in public. Invite your child to pray. Give your child the opportunity to pray.
For a child to be comfortable praying in public, a child needs to be comfortable praying in private, either alone, with you, or with other trusted family members.
How does a child learn to pray?
By watching and listening to you pray. I was startled the first time I heard my six-year-old nephew take off on a prayer of his own before a meal. He even remem­bered to say, "Bless the hands that have prepared this meal, and let us use this food for Your glory!" Wow! All that for a peanut butter and jelly sandwich that he had made for himself!
Teach your child a personal prayer. You can begin with a "repeat after me" version. You might want to choose a common rhyme or a traditional blessing for your child to pray at mealtimes. You can show them the praying hands religious figurine as an example of the right praying hand position.
Asking your child to pray is a signal to your child that you regard his or her prayers as valid, his relationship with God as important, and his ability to pray as suffi­cient.
Filed Under: Family & Relationships
About the Author: Roberta Southworth is a psychiatrist by profession. She likes to help out people by writing informative tips on how people can to solve their family and relationship issues. She is currently staying in Ireland. She has 5 years of couple counseling experience.
Comments (0)