By Andrew Reinert on Aug 12, 2010 with Comments 0
---
Some are very much interested in trying out the silk nails though the most common option for many women is the acrylic nails when they wanted to give a beautiful look to their existing ordinary nails. Silk nails are meant to be the beautiful natural looking among all the choices that are available in the shop. So the necessary things that must be done before applying the silk nails are given below briefly. Follow these steps to make a perfect fit to the existing nails.
The materials that are required before applying the silk nails are the silk nail covering or wraps and a glue to make it fit to the existing nails, buffering oil, a plastic sealer and the plastic compressor sheet.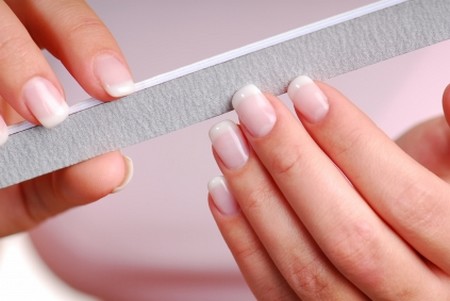 Next the tools that are required for using the above accessories are the handled scissors, one micro file to shape out the existing nail to make it to the shape of silk nail so that both gets attached properly, tweezers and a 180 grit file. Follow the instructions to have a perfect silk nail fit.
First clean out your ordinary natural nails thoroughly by removing the existing fake nail types. Then to get a proper adhesion, use a small grit file or 180 grit file just to remove the glassy shine from your natural nail plates.
Cut the silk nails according to the shape and size of the natural nails. The wraps of silk nails should be cut in such a way that it gets a round off near the nail's cuticle.
Apply the glue evenly with a lighter coat over the natural nail's surface. Do not make the glue to flow over the nail for applying it uniformly. Leave it for two seconds then proceed to the next step.
Then lay the silk nails wrap over the natural nail, by leaving a small space between the natural nail's cuticle and the silk nails. This space is produced by using paired tweezers which makes the application simple and easier.
Use the plastic compressor sheet on the surface of silk nail to ensure that it adheres properly to the natural nail. Trim away the excess part of silk nail which is hanging off your natural nail.
Ensure whether the silk nail got adhered securely, or else re-glue it and again do the above step.
Next coat the fitted nail with buffer oil and use the micro file to have the whole nail with a smooth finish.
Then apply the plastic seal on the surface of silk nail. You can also apply nail polishes to silk nail after the nail fit gets dried up clearly.
Repeat the above steps for your other nails.
Filed Under: Health & Personal Care
About the Author: Andrew Reinert is a health care professional who loves to share different tips on health and personal care. He is a regular contributor to MegaHowTo and lives in Canada.
Comments (0)