By Jason Prickett on May 14, 2010 with Comments 0
---
There are many ways to improve the aesthetic appeal of your home. A variety of homes look like they have stonework overlay on the exterior of the house. This is actually stone veneer work. The stone veneer is placed over other surfaces like stucco, brick or concrete. You never have to paint a stone veneer overlay. You can easily clean the veneering with pressure washing. Houses that are made of wood need an extra step of preparation. A layer on concrete must be applied to wood surfaces before a stone veneer can be applied to it. Here is how you can apply stone veener to your house. Read on.
Things You'll Need:
Wheelbarrow
Hoe
Portland cement mix
Washed sand
Trowels
Measuring tape
Masonry brush
Bucket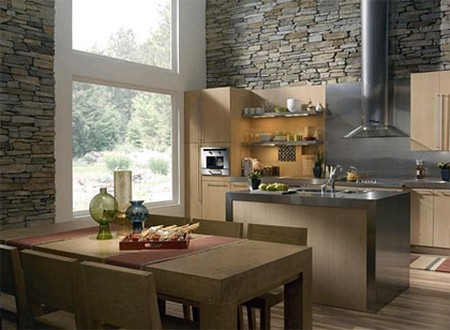 Step 1
Prepare the exterior of your walls and stone.  Do this by cleaning the surfaces thoroughly and then, allow them to dry partially before you begin to work. Use a bucket of water and masonry brush during the process to make sure the surface doesn't dry out before you get to apply the mortar.
Step 2
Measure the wall surface.This will help you ensure that you can include enough stones. Lay your veneering stone on the ground in the pattern that you will place them on the side of the house. Measure the pattern the ways it appears to make sure you have enough veneering.
Step 3
Place some portland cement mix in a wheelbarrow. Add twice a much washed sand to the cement. Now, add water to the cement mix and churn it over with a how. You want to add enough water to create a stiff and creamy texture.
Step 4
Apply a ½ inch thick layer ot mortar to your wall with a trowl.
Step 5
Dampen the surface of your stones. Apply a thick coating of mortar on top of the stones. Press the mortar side of the stone against the mortar on the wall. Apply the veneer with a slight twisting motion. This squeezes some of the mortor out to either side of the stones. Arrange the stones close to one another. Leave slender joints in between each one.
Step 6
Remove the excess mortar that has accumulated over the outer face of the stone. Remove any mortar that is on the face of the stone with your trowel. You should not allow mortar to harden on the stone's face.
Step 7
Scoop some mortar into a grout bag. Pipe mortar in between the stones. Remove any excess accumulation with your trowel. As the mortar set, make sure it is the right depth.
Filed Under: Home & Maintenance
About the Author: Jason Prickett loves to write about home maintenance and stuff you can do yourself instead of hiring any professional. His step by step guides will assist you in completing your home maintenance tasks.
Comments (0)