By Alan Kennon on Jul 30, 2010 with Comments 0
---
Clean your bathroom mirror. Take a good look at yourself. Your skin tells the story of your life.
If you haven't been taking care of yourself, you will know it immediately. Pay attention to the signs. You know the cause of it. Drink less. Get more rest. Eat better.
Relax.
Let the sunshine in. If you put your make-up on in the sunlight you will have a truer picture of what it looks like and it will work well in most lighting. If you don't have a naturally bright, sunny space, fake it with artificial lighting.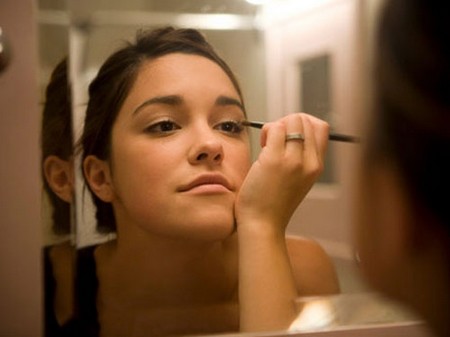 Morning make-up rituals should begin with a clean face. If you have thoroughly cleansed the night before and your face isn't shiny, wash with warm water and then moisturise. If you have slightly oily skin, use your favourite cleaning products and then rinse thoroughly before moisturising.
Accentuate the positive
Less is more. For an everyday look, you shouldn't have to spend more than five minutes applying your make-up. Enhance your best features and play down your weaker ones – it's an obvious make-up rule but it really does work. Younger women with a good, even complexion can get away with the bare minimum – a touch of foundation, lipstick or gloss and defined brows. Older women should think about concealer if they develop dark shadows around the eyes and nose.
Only your hairdresser knows for sure
Different hair colours may require a different emphasis of features, so if you are thinking of experimenting with a new look then remember that your make-up may have to change too.
In general, circles or shadows under the eyes are more visible on brunettes, but in turn brunettes may not require mascara or eyebrow definition and brow lamination. Most blondes could benefit from extra definition around the eyes and brows, particularly if their hair is very light. Redheads may need to define their lips so that their glorious hair does not overshadow their facial features.
Tricks of the trade
Professional make-up artists all agree that neutral shades of make-up are the easiest to apply and will effectively enhance your natural beauty. Powders are much easier to use than creams or pencils as they are easier to blend. Use a foundation/powder compact for an easy, light covering or, even better, use a tinted moisturiser with sun protection. To define the eyes use a dark eye shadow, either wet or dry, applied with an eyeliner brush. To define your brows, use an eye shadow colour slightly darker than your brow and apply lightly with a hard-edged brush.
Use a neutral lip liner several shades darker than your lips to outline them. This can be used with all shades of lipstick and should never stand out, so feather it instead of drawing a hard line. Lip liner is also a great way to stop lipstick from bleeding.
The best way to keep lipstick in place is to use a base coat of good lip balm and let it dry. Apply your lipstick over the top of this and then blot with tissue. Build up a few layers of lipstick, blotting in between each, until you put on the final layer. It really does work.
Powder blush should be applied with a proper, full-sized brush to alleviate that streaky look. Go for the 'just kissed by the sun' colour. To set your make-up, use loose powder and a big fluffy brush, but make sure that your powder doesn't make you look too pale.
Putting on the ritz
When you are going out for the night, give your face special attention, but don't overdo it. Treat yourself and the evening will have more meaning. Take the time to remove your daytime make­up and moisturise. Relax on the bed for five minutes while the moisturiser seeps in. Close your eyes and listen to your breathing. Apply your make-up using slightly richer or brighter tones than for your daytime look, but remember -less is more. Give your hair a lift. Spray your favourite perfume into the air and enter the scent.
Take a good look at your fabulous self in the mirror. If you feel good you will look good.
Filed Under: Lifestyle & Personality
About the Author: Alan Kennon lives a very happy life with two kids and a lovely wife. He likes to share his life time experiences with others about how they can improve their lifestyle and personality.
Comments (0)