By Jason Prickett on Sep 20, 2010 with Comments 0
---
There are many different causes of damage to the hull of a boat. However, this is a very important aspect to repair. If your hull is not intact, your boat runs the risk of flooding or worse. Here is how to repair a fiberglass hull on your boat. Read on for more information.
Procedure:
Items:
Sandpaper
Eye protection
Repair kit (for fiberglass)
Pair of Scissors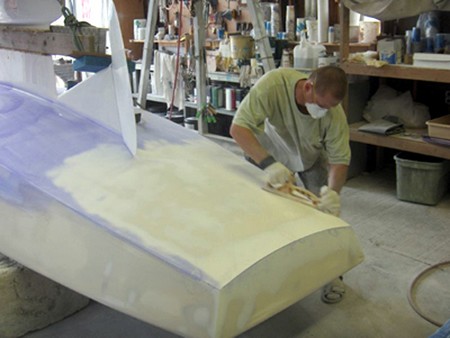 Sanding Machine
Face mask
Sovent for Unwaxing
Polyvinyl Alcohol
Cloths
Formica Paste
Roller
Step 1
Remove the damaged fiberglass hull totally. All the apparent damage and surround parts should be taken off. Add a twelve inch diameter around the area you cut and remove that as well.
Step 2
Apply the solvent to take off all the previous wax. Do the interior and exterior.
Step 3
Smooth the entire diameter of the interior and exterior surfaces with sand paper or a grinder.
Step 4
Now, place a new coat of wax on the outside of the repair area. Be careful not to get any around the perimeter.
Step 5
Size a section of Formica. Make it slightly bigger than the repair area. Put on a coat of polyvinyl alcohol on the Formica and tape it to the hull of the boat as a backer.
Step 6
Measure the fiberglass fabric that came with you repair kit. It should be 1 inch bigger than the repair area. Decide how many layers are needed to complete the repair work. This depends on how thick the hole is. You'll need about two layers of 1.5 oz. mat couple with a 6 oz. cloth. All the layers after this will need to be ½ bigger than the one before it.
Step 7
Use the instructions is your repair kit to understand how to put resin and a catalyst on properly.
Step 8
Use the gel coat inside the fiberglass kit to spray the backing of the boat. Do this from the interior of the boat. Make a 20 mm thick coat.
Step 9
Apply the layers by dampening the mat and fabric with the resin. Put three layers on the gel coat. Use the resin roller to remove all air bubbles. Limit yourself to four.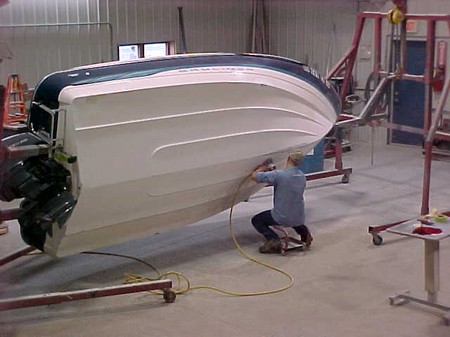 Step 10
Make the last section of mat an inch bigger than the area you're fixing. Secure it with resin. Roll it smooth. Seal it with polyvinyl alcohol.
Step 11
Take the backing off and correct any flaws using gel coat.
Suggestions
Maintain all tools with acetone.
Be careful with sanding fiberglass. Wear long sleeve, protective clothing for your eyes, mouth and skin. Wear protective eyewear and a mask that prevent you from inhaling the fiberglass shards. Safety first.
Filed Under: Work & Careers
About the Author: Jason Prickett loves to write about home maintenance and stuff you can do yourself instead of hiring any professional. His step by step guides will assist you in completing your home maintenance tasks.
Comments (0)